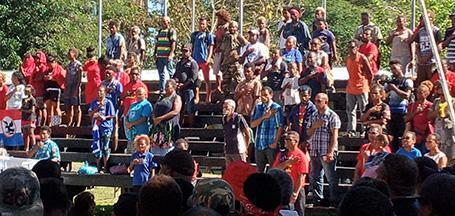 Malaita Premier Daniel Suidani has announced that his government is taking action to return provincial assets and lands that have been illegally taken.
Speaking in a ceremony to mark the Malaita Second Appointed Day in Honiara this morning, Suidani outlines some of his government's plans and challenges to the hundreds who show up at the National Museum.
The premier outlines his concern about ownership of provincial assets, the sense of belongingness or ownership of the provincial government system as being the government of Malaita.
"I can say with confidence that unfortunately we have not been good keepers of a system that was meant to assist us with the governing of our local affairs.
"This leads to the issue of leaders of the provincial government both elected and non-elected helping themselves and their cronies with things that do not belong to them.
"Sadly they have done this at will. It is even sickening to know that those that have done harm to our provincial government were Malaitans themselves. Our very own people have deprived us from progressing. What my government is doing now is to assess provincial assets and properties with the aim of returning them back to the province. Similar action is now been put in place for provincial lands that some people have taken illegally."
Suidani says he states these not to tannish anyone's reputation but to highlight an important issue for Malaita.
"It is time we must be encouraged to work faithfully wherever we are. We must continue to cherish hard and faithful work over bad judgement and corrupt practices. We must choose right from wrong and be examples of a people that get what is theirs and leave what is not theirs," the premier says.
He adds these are but the simple virtues that "we will be remembered for and our children will be thanked for".
"For if we adopt and put into practice these simple virtues, some of which were highlighted. You will be rest assured that whoever you are and wherever you may be, your work and life as a Malaitan will be cherished and be used as a good example to others," he said.
The Honiara based committee had organised the celebrations today to mark the 37th Second Appointed Day of Malaita.
It started with a march from the Honiara City Council to the National Museum arena.
What you think?