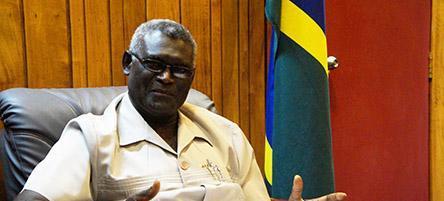 Prime Minister Manasseh Sogavare has expressed great concern of the country losing moral compass warning that "if we do not do the right thing we are breeding a nation of social deviants who have no moral compass, or values and this is dangerous."
Delivering his 42nd Annivessary yesterday, Sogavare states that it is very sad to see that "we as a people and country have lost our moral compass."
"The moral decay of our norms, values, beliefs, convictions, ideals and culture is spiraling downward at an alarming rate.Our attitude is becoming one of indifference and it breeds disrespect and contempt for what we hold dear as a people and country," the PM said in his address.
He describes it as a national pandemic akin to the global pandemic that is now experienced.
"If we do not act now to stop this downward spiral we will reap the consequences.
"It is my wish and plea that in whatever we do, we must do the right thing. We profess to be a Christian, yet many are not living like true Christians. We must learn to follow and obey our laws. We must respect each other, the public and other people's property as well," Sogavare said.
He said Honiara is a city where people from different provinces live adding like Honiara, all our provincial capitals are also centers where people live and work together.
"We must appreciate our cultural differences and live together in harmony. Sadly, it is now common for people to use abusive words towards each other. This must stop, this has never been a part of our tradition and culture, we are better than that.
"Our attitude has been quite disappointing. We must remind ourselves that we have a duty to ensure that our attitude is one that promotes respect, tolerance, humility and love. It is sad to see people disrespecting our public roads by spitting betel nut and throwing rubbish out of moving vehicles onto the road.
"Some of us are inconsiderate by smoking in public vehicles and having no regards for other users. Some may think that these are petty things but this kind of attitude shows our lack of respect towards each other," the prime minister said.
What you think?