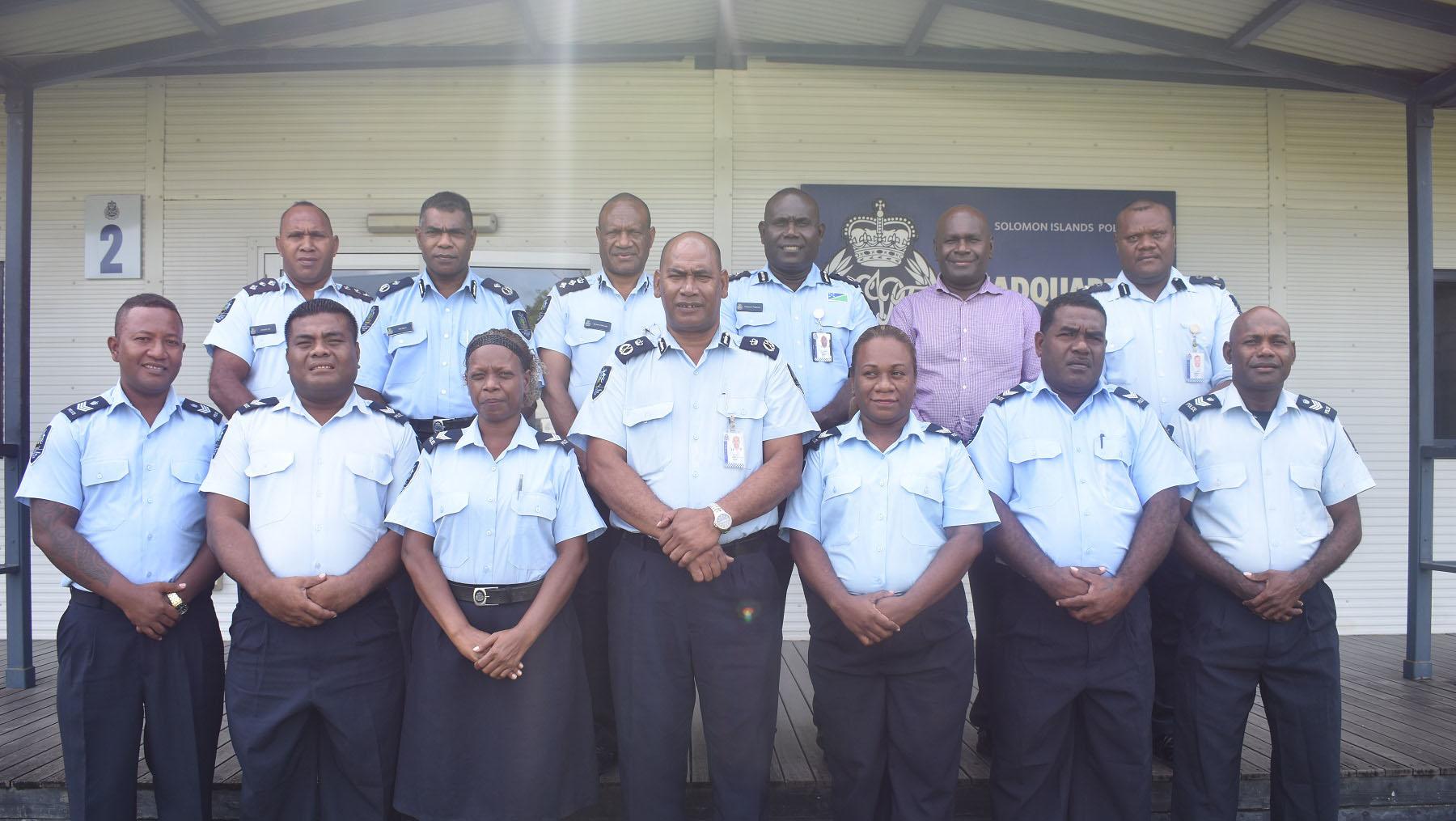 Seven officers of the Royal Solomon Islands Police Force (RSIPF) have been promoted to different supervising positions within the Force during a brief ceremony at the Rove Police Headquarters in Honiara on 11 March 2021.
The seven include three female officers.
Speaking at the ceremony, Commissioner Mostyn Mangau told the officers, "Your promotions are challenging as you take on the new leadership positions to drive the RSIPF."
"Discipline among officers has been an issue recently within the Force with officers forgetting the Oath they took when they joined the RSIPF. As supervisors you are expected to show a good example to officers that you will be supervising," Commissioner Mangau told the newly promoted officers.
"Your promotions are significant for RSIPF and the people of Solomon Islands. The future of RSIPF is vested on your shoulders. I as your Commissioner will work closely with you in your new promoted positions."
"Leadership comes with responsibilities, responsibilities come with challenges but as a team we can archive our goals. The RSIPF Strategic Directions and core values set a clear direction for us. Even our national motto is very clear: 'To lead is to serve'," says Commissioner Mangau.
The newly promoted officers are:
Police Constable (PC) Reginald Misiosi to Sergeant (Sgt) Legislative Review Policy Strategic Planning ;
Sgt Raymond Togapada to Staff Sergeant (S/Sgt) Senior Supervisor, National Community Policing Department;
Sgt Augustine Bela to S/Sgt OIC Major Projects, PID
Sgt Josephine Bata to S/Sgt Legislative Review Policy Strategic Planning
PC Iete Tebakota to Sgt Supervisor Choiseul Province
PC Ethel Maeue Sgt Supervisor Guadalcanal Province
PC Faye Siapu to Sgt Supervisor, Policy Strategic Planning
Speaking on behalf of the newly promoted officers, Staff Sergeant Togapada said, "On behalf of my colleagues, I wish to thank the RSIPF Executive for having the confidence and trust in us. We will do our best to serve the Force and our people to the best of our abilities."
The new promotions, approved by the Police and Prison Services Commission, will take effect immediately.
//End//
What you think?