SOLOMON ISLANDS-CHINA SECURITY COOPERATION SIGNED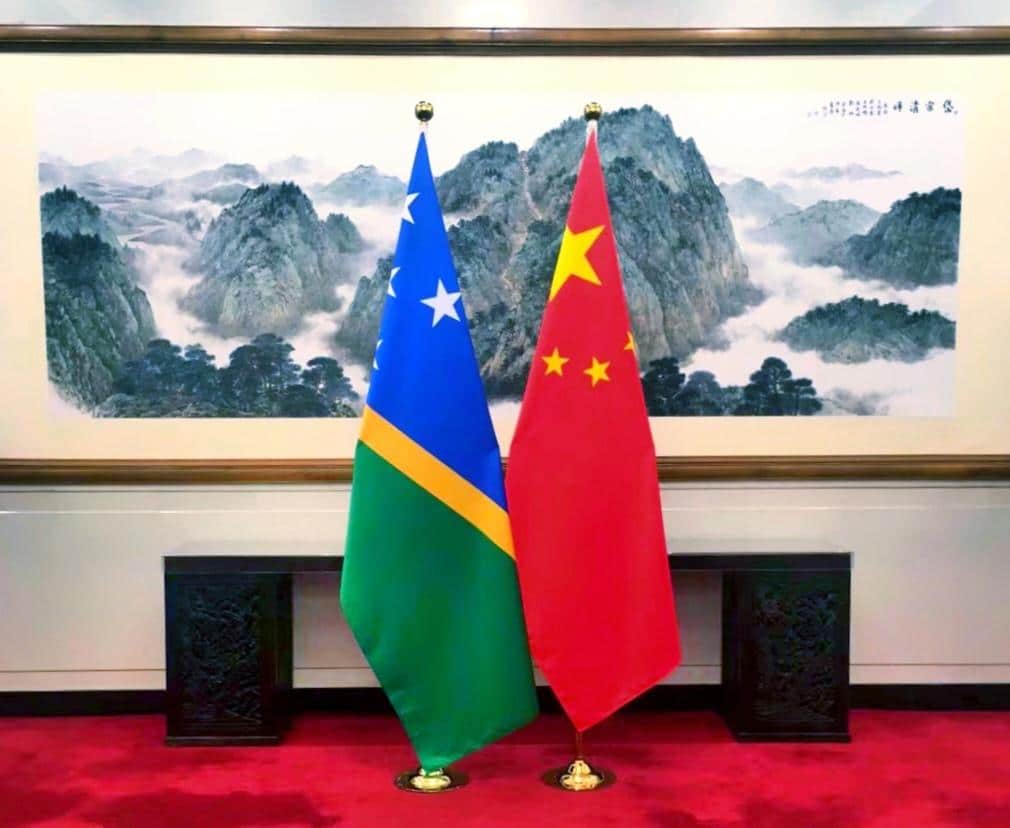 The Security Cooperation between Solomon Islands and the Peoples Republic of China (PRC) was signed recently by the Solomon Islands Foreign Minister Jeremiah Manele and his PRC counterpart, State Councilor and Foreign Minister Wang Yi.
Prime Minister Manasseh Sogavare this morning announced the formal signing of the Security Cooperation in Parliament saying the Solomon Islands has taken a sovereign decision to broaden its security cooperation with more countries guided by the country's National Security Strategy (NSS).
Sogavare asked all friends and partners to respect the sovereign interests of Solomon Islands which the country had subscribed to under the Biketewa and Boe Declarations on regional security.
"I ask all our neighbours, friends and partners to respect the sovereign interests of Solomon Islands on the assurance that the decision will not adversely impact or undermine the peace and harmony of our region".
"Let me once again reiterate that Solomon Islands Security Cooperation with China is guided by the country's Foreign Policy of "Friends to all and Enemies to none". Solomon Islands do not have any external adversaries nor is the framework directed at any countries or external alliances rather at our own internal security situation from within the state. It complements our (2017) Security Agreement with Australia," Sogavare said in Parliament this morning.
Solomon Islands had subscribed to the Biketawa Declaration and the Boe Declaration on Regional Security and committed to the Principle of non –interference in the domestic affairs of another member state and support the development of National Security Strategy frameworks to address its traditional and non-traditional security threats.
"We will not allow any threats from within Solomon Islands to threaten regional stability. Solomon Islands stability is the region's stability," Sogavare said.
Domestically, internal instability erupted in 2006 of which Honiara City was torched. RAMSI concluded in 2003 – 2017 after 14 years of presence in Solomon Islands. Sadly again in 2019 Honiara experienced rioting and more recently in November 2021, the capital City was looted, re-ignited with properties and lives lost.
Against the ongoing internal security threats, the Government intend to beef up and strengthen the Police capability and capacity to deal with any future instability, by properly equipping the Police to take full responsibility of the countries security responsibilities in the hope that the country will never be required to invoke any of our bilateral Security Arrangements.
The SI-PRC Security Cooperation is based on mutual respect for sovereignty and in compliance with domestic and international law.
"Let me assure the people of Solomon Islands that we entered into an arrangement with China with our eyes wide open guided by our national interests. We have full understanding of the fragility of peace and our duty as a state is to protect all people, their properties and critical national infrastructure of the country," Sogavare said.
Under the Boe Declaration, all Pacific countries were asked to develop their respective National Security Strategy and Solomon Islands have conducted wide consultation in framing its Solomon Islands National Security Strategy 2020 and now implementing the strategy in accordance with the Implementation Plan of the Strategy.
"Broadly, there is much for us to implement in our security space and if we are to continue operating under the same status quo of business as usual, we will not be able to effectively cover all the critical security gaps capable of weakening our vulnerability to the changing security environment," Sogavare said.
Sogavare assured the country that signing the Security Cooperation with China is done in the best interest of the country which compliments and supports regional and bilateral peace keeping arrangements with respect for the concerns of its regional security partners that Solomon Islands collectively trust to maintain peace and stability of the region.
The focus of Solomon Islands is to advance its national development priorities and restore confidence for local businesses and investors to build better and bigger investments.
Meanwhile, the Solomon Islands Foreign Minister will visit some regional countries soon to assure Solomon Islands neighbours that the cooperation with China is about peace and wellbeing of Solomon Islands and the region.
ENDS///
GOVERNMENT COMMUNICATIONS UNIT
What you think?