Honiara, Solomon Islands, 14 July 2022 –Yesterday, the Government of Japan, in partnership with UNICEF, officially handed over 14-speed boats to the Solomon Islands Ministry of Health and Medical Services to support the Ministry in its efforts to accelerate health services, especially in the most remote areas.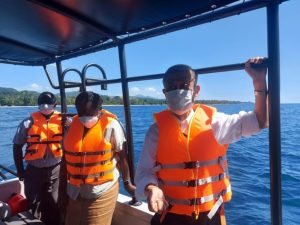 The Hon. Minister for Health and Medical Services, Dr. Culwick Togamana, expressed sincere appreciation to the Government and people of Japan, as well as to UNICEF, stating that the support is first of its kind and the Ministry is very excited to get the boats deployed to start serving the people out in the Provinces where the need for health services is greatest.
"The scatteredness of our islands, separated by kilometers and miles of seawater, makes delivery of health service across the country a very difficult task – let alone the high transportation costs. COVID-19 response efforts, the roll-out of COVID-19 vaccines, routine immunization programmes, deployment of staff, distribution of medicines and medical equipment as well as gathering of information from the field for timely decisions and actions are all, one way or the other, impacted in this regard," said Hon. Dr. Culwick Togamana.
"There is also no arguing that from our experiences, traveling by sea, under the scorching heat of the sun or wet and coldness of rainy weather for long distances to access health services can be a nightmare. In many cases, conditions of patients being transported worsens and in other cases, lives were lost."
"Therefore, the boats will enable the Ministry to effectively and efficiently deliver health services to our people across the islands. In addition, the boats will comfortably and safely shuttle timely referrals and emergency cases to health facilities. Thank you to the Government of Japan for financing the boats and UNICEF for undertaking the procurement process in delivering these valuable assets. This is yet another important milestone in our ongoing efforts to improve health services for our people. Thank you indeed from our hearts," he added.
The boats are equipped with two 75 horse-powered mercury engines, two-way radios, GPS, spotlights for night travels, and canvas roofing for sunlight protection with a loading capacity of 12 people to be seated back-to-back on water-proof cushions. These can also be used for sick patients to lay on whilst being transported.
The boats were initially intended to quickly shuttle COVID-19 patients from their communities or health facilities to provincial hospitals. In time, their purpose will transcend to other life-saving opportunities, such as transporting emergency and referral cases within the provinces. The boats will also be used to boost the COVID-19 vaccination rollout programme in the country to speed up coverage amongst other health projects.
This assistance today is part of the Government of Japan's Emergency Grant Aid of approximately USD 41 million to 25 countries in Southeast and Southwest Asian and Pacific Island Countries under the Free and Open Indo-Pacific (FOIP) initiated by former Prime Minister ABE Shinzo who has suddenly passed away on July 8. FOIP is a vision consisting of dimensions such as the promotion and establishment of the rule of law, freedom of navigation, free trade, pursuit of economic prosperity, Commitment for peace and stability.
"We are happy to have this handover ceremony. It was an unfortunate incident when ourformer Prime Minister, ABE, passed away suddenly in a tragic way, however, we are pleased that this assistance falls under the humanitarian assistance section of Japan's Foreign Policy Guidelines FOIP, which has been succeeded as a cornerstone of our foreign policy. Japan would like to continue to engage in strengthening Japan-Solomon relations and economic development cooperation projects in line with his belief," said the Ambassador of Japan to Solomon Islands, H.E. MIWA Yoshiaki.
"We would be grateful if this assistance, with sincere cooperation from UNICEF and the Ministry of Health and Medical Services, will be helpful for boosting COVID-19 response in Solomon Islands. We remain committed as well as dedicated towards our friendship and partnership. We stand ready to provide support to Solomon Islands when and where assistance is needed," he added.
UNICEF has been continuously working together with the Ministry of Health and Medical Services in the battle against COVID-19 as well as to improve the overall health services in the country. This includes supporting the vital procurement of COVID-19 vaccines, providing technical and financial resources for the roll out of health services, including vaccination, in the country and ensuring that children and their families are able to equally access the healthcare that they need.
"UNICEF thanks the Government and people of Japan for the strong partnership in reaching remote communities in Solomon Islands with these lifesaving boats," said UNICEF Pacific's Chief of Solomon Islands Field Office, Dr. Zelalem Taffesse. "Approximately 75 per cent of children and their families live in rural communities who generally occupy the coastline of the more than 300 inhabited islands in Solomon Islands. These are the people who were missing out on essential health services, including COVID-19 vaccination. UNICEF is proud to be supporting the Ministry in reaching these communities, who are otherwise the last to receive essential healthcare services."
This funding is part of the broader Japanese project called Emergency Grant Aid in Improving Cold Chain in Southeast and Southwest Asian and Pacific Island countries that suffer from the impact of Novel Coronavirus Disease (COVID-19). This grant aid is of approximately USD 41 million to 25 countries in Southeast and Southwest Asia and the Pacific (approximately USD 9 million to 10 Pacific Island Countries).
The 25 countries include Brunei Darussalam, Cambodia, Indonesia, Lao PDR, Malaysia, Myanmar, Philippines, Thailand, Timor-Leste, Vietnam, Bhutan, Maldives, Nepal, Pakistan, Sri Lanka, Cook Islands, Fiji, Federated States of Micronesia, Niue, Papua New Guinea, Samoa, Solomon Islands, Tonga, Tuvalu and Vanuatu.
###
Notes to Editors:
About the Solomon Islands Ministry of Health and Medical Services:
The Ministry of Health and Medical Services is responsible to lead, improve and strengthen the Solomon Island health system in service to the Government and the people to deliver quality health service, reduce sickness, prevent the loss of young lives and relieve suffering. 
About the Government of Japan:
Japan provides funds (grants, loans, etc.) and technologies that are useful for "development", including peacebuilding, governance, promotion of basic human rights and humanitarian assistance, in the form of Official Development Assistance (ODA) to eligible countries and regions. ODA includes bilateral aid to directly assist developing countries and regions, and multilateral aid, which consist of contributions to international organizations such as UNICEF, UNDP, and WHO.
About UNICEF:
UNICEF works in some of the world's toughest places, to reach the world's most disadvantaged children. Across 190 countries and territories, we work for every child, everywhere, to build a better world for everyone.
What you think?