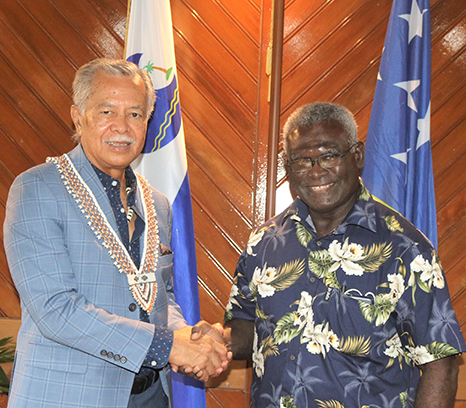 Prime Minister Hon. Manasseh Sogavare and the Secretary General of the Pacific Islands Forum, H.E Henry Puna met on Monday ahead of the current Pacific Islands Forum Meeting at the PIF Secretariat headquarters in Suva.
Prime Minister Sogavare and Secretary General Puna discussed and shared thoughts on regional issues and developments that will be discussed during the 51st Summit of Pacific Islands Leaders Islands and PIF.
They committed to cooperate more closely at all levels and address issues of common concerns.
PM Sogavare acknowledged the important role of regional cooperation and he thanked the Secretary General for facilitating a Tok-Stori to abet Solomon Islands' cause and a national sovereign decision to deal with gaps in its internal security needs.
The Prime Minister also congratulated the Secretary General H.E. Henry Puna on his assumption of the office of the Secretary General of the Pacific Islands Forum Secretariat.
PM Sogavare also assured His Excellency Mr Henry Puna of Solomon Islands cooperation and support for his tenure in office.
ENDS///
What you think?