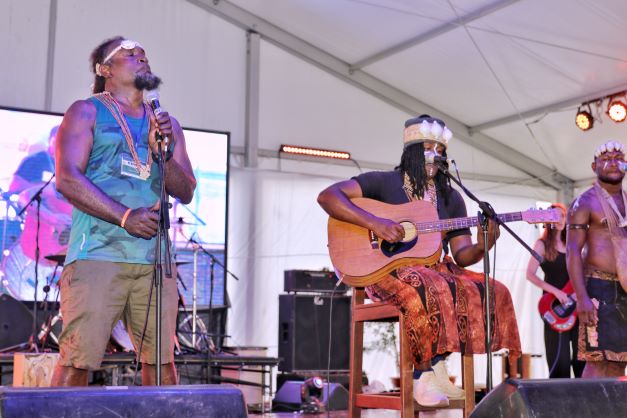 It was a wonderful celebration of music, art and culture as musicians from Australia and Solomon Islands came together to share their music and their cultures at the Wantok Musik Concert on Saturday 21 January at the Pacific Crown Hotel in Honiara.
The Wantok Musik Concert 2023 was a collaboration between the Australian High Commission in Solomon Islands and the Wantok Musik Foundation.
This event showcased the talent, expertise and culture of some of Australia and Solomon Islands' most exciting musicians and performers.
The event harnessed the power of music to bring musicians and spectators together for a night of cultural exchange.
The two and a half hour free concert involved an exciting line-up of non-Indigenous Australian, Indigenous Australian, and Solomon Islands musicians, including Jaro Local.
Australian High Commissioner to Solomon Islands, Dr Lachlan Strahan opened the concert with a few remarks before Dreamcast Theatre entertained the sizable crowd with their opening cultural performance. Next followed the Wantok Musik team – comprising Charles Maimarosia, KMK Kaumaakonga, Tjupurru, David Bridie, Amy Chapman, Poppy, Natty D and the Wantok Musik Singing Competition winners Elizabeth Takamama Fangata and John Houkarawa. The night ended with a lively performance from Solomon Islands award winning singer and song writer, Jarol Local.
"After the long COVID-induced restrictions on travel and events, it is time for Australia to re-engage more strongly with Solomon Islanders through our cultures', Dr Strahan said.
"Australia provides support in many areas in the Solomon Islands, but culture also really matters. It is about our identity, our sense of belonging, it is about who we are now and who we will become."
"An important thing to me as an Australian is that the performers that have come from Australia are non-Indigenous and Indigenous, coming together and sending a message about our nation, and at the heart of that is cultural sharing," he added.
Dr Strahan acknowledged Mr David Bridie and his team at Wantok Musik Foundation and sponsors ANZ, Hatanga, BYGroup and mJams for getting behind the Australian High Commission to make the event possible.
Artistic Director of the Wantok Musik Foundation, Mr David Bridie, said First Nation artists in our region especially in the Pacific have their own amazing history.
"There are amazing cultures, a range of musical styles with all the custom performances and some of the hybrid performances like bamboo bands and string band music. And I think this sort of music is not heard enough out in the rest of the world," he said.
Solomon Islands' award-winning musician Charles Maimarosia said it was good seeing a lot of parents bringing their kids out for the concert on Saturday.
"More importantly a good starting point for the kids to start absorbing musical ideas and build on it when they grow up. This is one of those rare opportunities for Solomon Islands to have some of our famous Pacific Island artists performing," Mr Maimarosia said.
Mr Willie Tekatoha was also one of the performers and is part of the KMK Kaumaakonga from Bellona in Renbel Province.
"Most of the time we perform outside of the country, and we found out that it's the people outside that appreciate more the type of music KMK plays, and it serves as a lesson for us not to take our custom music for granted', Mr Tekatoha said.
"This concert is like our home coming performance, so we are very happy to have performed at the Wantok Musik Concert which was also an opportunity to perform alongside other local artists and a way of giving back to the country," Mr Tekatoha said.
The concert was truly a family friendly affair, with people of all ages able to enjoy the music.
The Australian High Commission thanks the security staff at the Pacific Crown Hotel, the Royal Solomon Islands Police Force (RSIPF), the Australian Federal Police as part of the Solomons' International Assistance Force (SIAF), and St John's Ambulance for your support to ensure the event was safe and secure for all to enjoy. In particular, thank you Central Station, Central Response Unit, Police Response Team, Police Maritime, and the Australian Federal Police.
The successful security operation was a demonstration of the RSIPF's professionalism, and of our teamwork and partnership in action.
What you think?