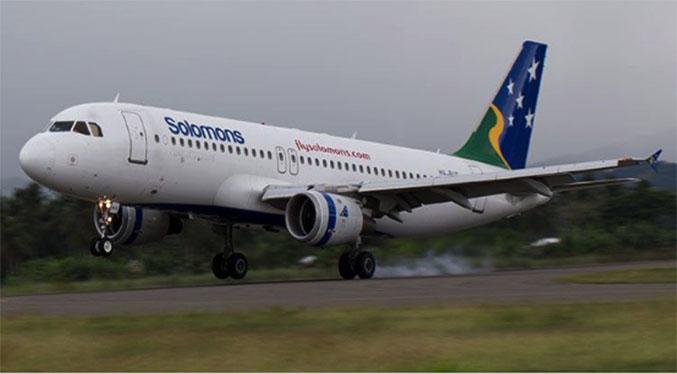 Solomon Airlines will move a step closer to rebuilding the airline's international schedule with the introduction of a second weekly service between Brisbane and Honiara available on Wednesdays.
The decision to add an additional international service follows confirmation by the Solomon Islands Government that border re-opening planning is underway.
In collaboration with the Australian Government's Pacific Flights Program, the extra service will provide additional opportunities for passengers and cargo movement between Solomon Islands and Australia as progress is made toward reopening Solomon Islands' international border.
Australia's support for regular and reliable commercial air connectivity also contributes to Solomon Islands' economic recovery.
"Under the first phase of our 'return to flying' program, we reintroduced domestic flights to 20 domestic destinations and restarted our Iumi Tugeda Holidays program," said Solomon Airlines CEO Brett Gebers.
"Adding a second international flight between Brisbane and Honiara is another step towards a return to 'normality'," he said.
The carriage of passengers is still subject to Solomon Islands Government approval.
Solomon Airlines Flight IE701 and IE700 will now operate twice weekly on Wednesdays and Fridays.
Flight IE701 on Wednesdays will depart Brisbane at 12:30pm, arriving in Honiara 4:45pm, with the return Flight IE700 departing Honiara 6:45pm, arriving in Brisbane 9:00pm.
This flight to Solomon Islands is scheduled especially to allow for same-day connections from Auckland and Christchurch in New Zealand.
Friday's service will retain its current departure times, with Flight IE701 departing 10:00am from Brisbane, arriving in Honiara at 2:15pm, and IE700 departing 4:15pm, arriving in Brisbane at 6:30pm, which is scheduled to cater to same-day international connections, primarily with Asia and Europe.
"We thank the Australian Government for their support through the Pacific Flights Program and close collaboration in assuring ongoing connectivity between Australia and the Solomon Islands," said Mr Gebers.
"Around the world, countries including Australia, Fiji, the USA, and throughout Europe are reopening borders with travellers and citizens quickly getting used to the 'new normal' of COVID-19 related testing and vaccination requirements for travel," Mr Gebers said.
"As we also adjust to the new environment, we will see inbound tourism and export opportunities return for the Solomon Islands. It is important that we are prepared to take advantage of those opportunities so that we don't fall behind as a nation or a destination," he said.
"Adding this second international service will allow for the increased movement of freight and passengers, providing opportunities for business to recover and rebuild," he added. 'Australia has been pleased to support Solomon Islands through the COVID-19 pandemic, including now as we move towards international borders reopening', said Australian High Commissioner Dr Lachlan Strahan.
Solomon Airlines' Honiara to Brisbane sector can be booked online at www.flysolomons.com. All other bookings can be made via the airline's Reservations team on 177 (local call), or Sales Offices in Honiara on (677) 20152 or [email protected]
What you think?