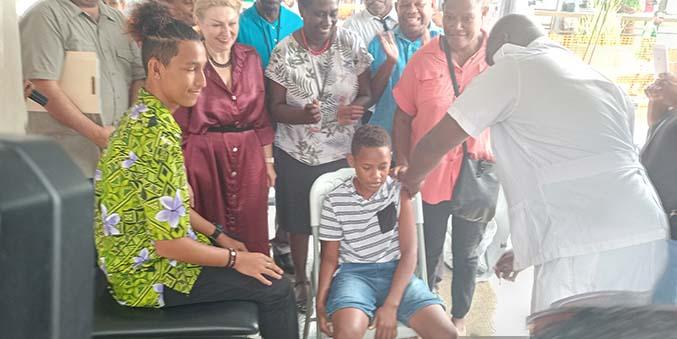 The Pfizer roll out has kicked off today with two young boys taking the first shots in front of the cameras. Whilst the Prime Minister, Manasseh Sogavare, was the first to get jab of Astrazeneca and his deputy Manasseh Maelanga the first for Sinopharm, two little unknown student boys in Joshua Pryor who's a student at Woodford and Moses Jr Nokali were the first to get jabs for the U.S made Pfizer in front of the cameras at the NRH Carpark.
Nokali said he's taken his jab to protect him and his family and community. Whilst Pryor said by getting his jab would allow him to travel overseas.
Over 100,000 doses on Pfizer have been donated by the United States Government and it has been reserved for those below 18 and over 12 years so as pregnant women.
"We are donating these vaccines with no strings attached," said Director, U.S. Embassy Office in Solomon Islands, Russ Comeau.
He said these vaccines represent a critical step in the fight against COVID-19 and journey back to normalcy in Solomon Islands.
Minister of Health and Medical Services Dr Culwick Tongamana in launching the rollout encourages those eligible to take Pfizer to come forward and get their vaccine.
Deputy Secretary in the Ministry of Education and Human Resources James Bosamata appeals to school kids in Honiara and Guadalcanal who will be amongst the first to be vaccinated to get their vaccine.
He said though the full roll out will be after 24th January when schools resume, the vaccine will still be available in the vaccination centres in Honiara.
News@SBMOnline2021
What you think?