Nuria's story on climate change effects on Walande wins top award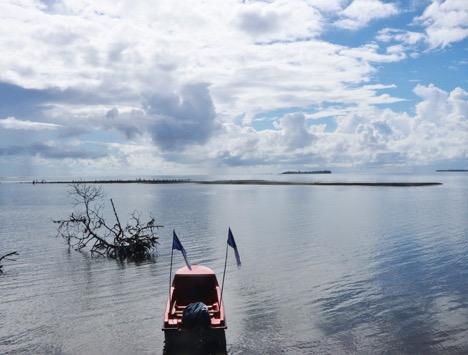 Solomon Star reporter Esther Nuria's story on climate change and its threat to the livelihood on the people of Walande in South Malaita has scoped the top award in the National Security Reporting Course which ended tonight in Honiara.
After 6 weeks, the National Security Reporting Course organized by the Media Association of Solomon Islands and the Australia Pacific Security College climaxed with the award of certificates to the participating journalists and the awarding of top honours to the three best stories. In the course of the workshop, journalists were assigned to write stories on the subject (national security) and submitted to be judged by the Australian facilitators.
Nuria scooped the top prize and the second place was shared by freelance Samson Sade and Sunday Isles reporter Alex Dadamu.
"I was shocked to win the award," said Nuria who recently travelled to Walande with an Anglican mothers' group for a meeting where she filed her story about the threats of climate change to the South Malaita people.
Nuria submitted the story knowing that it met the theme of the workshop which focused on security with climate change bein the biggest security threat to Solomon Islands.
In her interview with Richard Qa'ai, Chairman of the Disaster Committee on Walande he said Climate change has affected his people in a way that the island they have spent their childhood on is no more.
"Our land has already been washed away. Mangroves we depend on, the shells and our fishing spots have been destroyed from coastal erosion. Sea level rise has severely affected our livelihood.
"As coastal erosion continues, control measures such as landfill using rocks must be employed. Otherwise our people will have to move houses inland," Qa'ai said.
For the people of Walande, the present Village built on the mainland is their fourth settlement since their ancestors settled there generations ago.
President of MASI Georgina Kekea said the journalists' submissions were of high standard and they were judged by an independent journalism educator in Australia.
She said one of the critical areas they looked for was that the stories must have connections either from a local angle and going beyond our country. In this case, Nuria has connected her story from the people of Walande to climate finance possibilities and even to a relocation angle.
What you think?