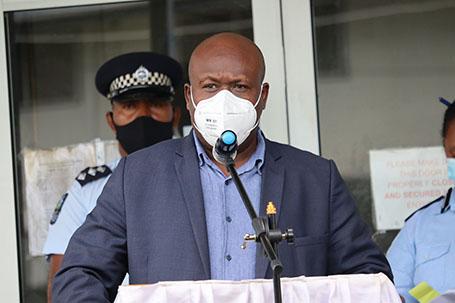 Honiara: Police Minister Anthony Veke says he stands by his social media comments in relation to a post carrying a letter by the President of the Federated State of Micronesia (FSM) to Solomon Islands Prime Minister asking the Solomon Islands Government to withdraw its security deal with China.
Veke said his comments were personal and does not reflect any official response from the Solomon Islands Government.
He said he is a Solomon Islander just like any other locals that have personal views on issues that affect the country.
Veke, personally said the President of FSM has the right as a member of the Pacific Islands Forum to express his views to the Prime Minister of Solomon Islands regarding the security deal but he should not be swayed away from respecting the sovereignty of Solomon Islands.
Veke said his comments were made in light of the issue of climate change which all pacific island countries including FSM should seek help to address rather than pacific island countries jumping into the geo-political tug of war that is currently sweeping across the region.
The Police Minister said those that are quick to demand him for an apology are obviously wobbling from other issues rather than defending the sovereignty of their own country.
"My comments are my personal ones as a Solomon Islander and does not reflect the overall position of the Government or my position as Minister of the crown on the subject of debate and I will not apologise for them. I am simply expressing my views and they are also expressing theirs so what's the fuss?" Veke said.
He encouraged his social media rivals to unite against those that are trying to destabilise the unity of Solomon Islands rather than being brain-washed to promote the interest of outside forces during these trying times.
ENDS///
What you think?