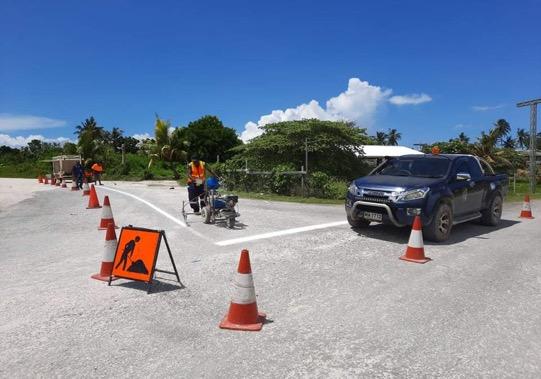 Road users of the Munda-Noro corridor will soon enjoy safe and comfortable travel as the periodic maintenance of the existing highway nears completion.
Engineers from the Ministry of Infrastructure Development were onsite last week to assess the ongoing maintenance programme which is expected to complete by the end of October after its commencement in July 2020.
The National Government through the Ministry of Infrastructure Development (MID) funded the project worth more than SB$3 million under the National Transport Fund, which was contracted to Trades Transformation.
The maintenance works involved periodic and routine maintenance of the eighteen (18) kilometres sealed road from Munda to Noro and the twelve (12) kilometres unsealed roads in and around Munda Township.
Routine maintenance is the ongoing works which include maintaining of vegetation along the sealed road, cleaning and maintenance of culverts and drainage systems, clearing of bridge water ways, removing debris from road sides, erecting and repairing of road signs to guide drivers and filling and patching of pot holes.
The team confirmed the project has progressed well with most of the main works already being implemented by the contractor since the project commenced.
MID Job Manager Ben Maenu'u said his team was satisfied with the progress made by the contractor so far.
Routine road maintenance is ongoing on short-term periods whilst periodic maintenance on unsealed roads are done within three (3) to five (5) years.
Periodic maintenance of sealed roads generally is carried out within seven (7) to ten (10) years to maintain road conditions.
Maenu'u said the National Government under MID is delivering major infrastructure projects in region two which covers Choiseul, Isabel and Western Provinces.
"These infrastructure projects are progressing well and hopefully will complete on schedule," he said.
Contractor Supervisor onsite Nathan Holosivi said most of the main works have been completed and now they are working on the line marking.
"We have started the line marking works at the Western end of Munda Airport road to Lambete and will go all the way to Noro town.
"The work is expected to be completed within the next two weeks depending on the weather," said Holosivi.
Currently, the ongoing projects in Region Two (2) included the periodic and routine maintenance of Gizo D, Trunk & Coastal Sealed and Unsealed Roads, Rehabilitation of Unsealed Gizo Inland 6 Mile Road from New Manda Junction to Saeraghi projects.
Other major upcoming major projects are the Rehabilitation of Choiseul Bay Township Road and Chea Wharf construction which are currently on tender.
There are also ongoing labour based contracts in Kaevanga and Haevo in Isabel province.
ENDS///
What you think?