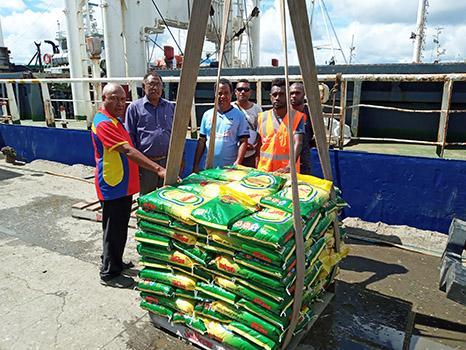 The largest ever relief supply to Makira/Ulawa province of 14,744 bags of rice will be dispatched today for the victims of the Tropical Cyclone Harold.
Though the supply is finally heading to Makira after months, the provincial premier Julian Maka'a was grateful as he saw the supply loaded onto Ocean Joy heading to his province.
"I am grateful to the government that they have finally dispatched this to my people. My people suffered severely from the cyclone as their food gardens were damaged and I am happy to see that the supply is heading home," he told SBMOnline.
NDMO officials were at the wharf to load the supply onto the boat.
"This is the largest supply ever to head to the province in terms of relief support," said Timothy Suntine of NDMO.
Maka'a said all the communities in the 17 wards in his province were affected and they would be benefiting from the supply.
He said besides Ulawa and Ugi all of the communities on Makira including the islands of Santa Ana and Santa Catalina were affected.
Maka'a said the province's staple food, banana, were uprooted and thrown to the ground as a result of the cyclone.
"My people have recovered but the relief supply will help them a lot in this period," he said.
He adds that the supply is one in a long while for his people, as they had not been receiving any supplies for a long period time.
The ship will sail to Kirakira and from there it travels around the island to dispatch the relief supply to the communities affected according to the National Disaster Management Office listing.
News@SBMOnline2020
What you think?