East Malaita road at its worst state & needs urgent fixing, says farmer
Farmers and the travelling public in East Malaita are calling on their responsible leaders to urgently fix the east road as it is in its worst condition in years.
A spokesman for the group and farmer Tom Tumu told SBMONline that the road is now in its worst that he had even seen.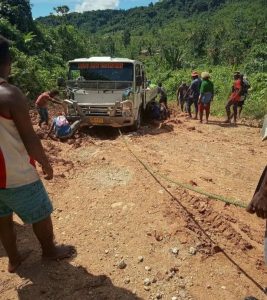 He said the travelling public in the east are having hard time to travel due to the poor condition from Atori to Dala.
He said they usually travel the distance of the road for around three hours but now it is now longer.
Tomu added that truck fares have also shot up from $100 to $300 as drivers are charging high due the poor condition of the road.
"It's so high and we the ordinary people can't afford it," he said.
Tumu said even clinics and stores are also affected as supplies are also low.
He said the travel is not only long but it very dangerous as the road is very high and steep.
Tumu calls on their MP and Deputy Prime Minister Manasseh Maelanga to help fix the road urgently as Christmas is now to allow people to travel for holidays and have access to goods and services in Auki.
He said they are that machines for road work had arrived but they had not been used for the purpose.
What you think?