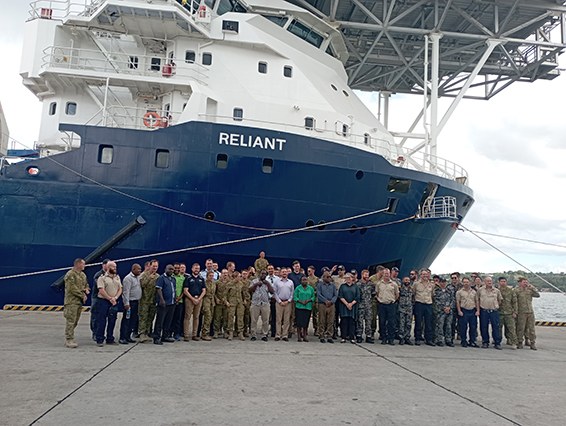 By Timothy Inifiri Jr.
Australia's Pacific Support Vessel, Australian Defence Vessel (ADV) Reliant, today (7 November) graced the shores of Honiara as part of its inaugural Pacific tour.
ADV Reliant will spend the whole week in and around Honiara participating in Excercise Longreach, a humanitarian assistance and disaster relief activity between the Australian Defence Force and the Solomon Islands Government.
Speaking during the welcoming ceremony today afternoon at the Domestic Port in Honiara, Australian Deputy High Commissioner Sally Anne Vincent says that the Vessel is purchased by the Australian Government for the Pacific to help respond to the region's priorities.
"It [ADV Reliant] boosts our capacity to respond to your requests and needs and all bends our options to respond quickly in times of crisis, particularly during high risk weather seasons".
"Our longstanding partnership with Solomon Islands across all facets of development and security has spanned decades and its only broadening and strengthening through time," said Deputy Commissioner Mrs Vincent.
As part of the inaugural tour, the region's new support vessel will spend several months visiting a total of seven countries in the region and Timo-Leste during the Pacific high risk weather season to provide maritime surveillance support and deliver essential cargo, including humanitarian supplies.
The Deputy High Commissioner also said that Australia can be relied on and depended upon to respond to the needs of the Pacific Region.
The 102 meters long vessel will also enhance regional search and rescue, maritime surveillance, and humanitarian assistance and disaster relief (HADR) capabilities, while also providing support to training, regional engagement and capacity building activities during their tour.
Also attending the event was Minister of Police and National Security Anthony Veke who welcomed the arrival of ADV Reliant in the country.
"It is always the Government's priority commitment that our communities our there including our HADR team are continuously praying and provided with basic skills and knowledge of what to do during a natural disaster situation".
"However, we will all observe that due to the effects of climate change our normal weather patterns are affected and many often result in natural disasters that are challenging to deal with thereby forcing serious security issues to our limited capabilities", said Veke.
The next few days as part of Exercise Longreach will also see ADV Reliant together with the Australian Defence Force (ADF) assisting the National Disaster Management Office (NDMO) in undertaking a practice evacuation of Savo Islands, with the Island in the past couple of years encountering few volcanic activities.
"The visit of ADV Reliant and the planned activity of Exercise Longreach with the NDMO team and other Government officials together with ADF to conduct a field training exercise to practice a evacuation from Savo Islands will be very useful and relevant", added Veke.
Meanwhile, with the approval and guidance of the Solomon Islands Government, ADV Reliant is planning on returning to the country in 2023.
What you think?