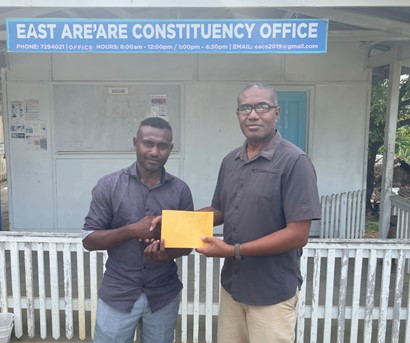 East Are Are Constituency (EAC) is continuing to meet Canadian businesses demands through its strong partnership in the area of Labour mobility.
Member of Parliament for EAC Hon. Peter Kenilorea Jnr said that Canada's opportunity to its people is helping support families in the East Are Are constituency during these difficult economic times as Solomon Islands faces a critical economic situation contributed by COVID-19.
Hon. Kenilorea made the statement as he recently handed over travel documents to the latest constituent from EAC, Mr. Nickson Maesia, in preparation for his travel to Canada to undertake employment opportunity under Canada's labour partnership program.
Mr. Maesia will be joining the additional three recruits from EAC, under this partnership. The other 3 workers from EAC had travelled to Canada in August of this year. They are all participating in Food Processing sector related jobs.
Mr. Maesia said that he was extremely privileged, as a Solomon Islander from EAC, for the opportunity in being selected, enabling him to enter  the job market in Canada.
"I will make sure that I work hard and make my people of EAC proud and that I contribute to my family, and to the constituency and Solomon Islands through remittances. I really need to support my family and this is a god sent opportunity." Mr. Maesia said.
In a recent decision, the Government of Canada has granted further approval to Canadian employers to hire additional workers from the East Are Are constituency to support businesses in need of workers through its labour mobility program.
Hon Kenilorea said that Canada's labour mobility with his people is witnessing benefit at the constituency level.
"We at the community level are already experiencing the positive impact of the strong partnership we are having with Canada and its impact on the families of the East Are Are constituency. The remittances that are being received by the families of those working in Canada helps support daily needs of the families," Hon. Kenilorea said.
Hon. Kenilorea added that Canada presents a strong labour mobility opportunity for his people in various sectors and says that EAC is firmly committed and dedicated to ensure that it meets Canadian demand for a well-trained workforce.
"I am all about seeing my people finding ways to support themselves and helping support and build a strong EAC and a strong Solomon Islands. We find this opportunity in our partnership with the people of Canada. I and EAC remain committed," Hon. Kenilorea said.
"I am extremely proud and happy to receive news directly from some family members of the first 3 constituents that are in Canada under the Canadian labour mobility partnership who have settled well and are performing well in their jobs in Canada meeting or exceeding employer expectations.
"They have also been remitting funds to assist their families here in Solomon Islands, which addresses one of the main objectives of pursuing this Education, training and labour mobility partnership with the Canadians through its education and training partnership with CITREC," Hon. Kenilorea said.
"Employers demand a well-trained workforce and that is what we have been providing to them. They are job ready through education and training provided through CITREC. We shall continue to meet Canadian demand with a strong workforce from EAC," Hon. Kenilorea said.
Hon. Kenilorea again thanked the government of Canada, its respective ministries for availing the opportunity to his constituents to enter the job market in Canada.
"I wish to take the renewed opportunity to thank Canada's Immigration Division, department of Labour in Canada that continues to support our initiative through our partnership with Canadian employers. I further wish to thank CITREC for its leadership in providing education and training opportunity to my people leading to a strong relationship with Canada's labour mobility sector that sees us providing a skilled workforce through education and training to meet Canadian demands", Hon. Kenilorea said.
END.
Press Release
What you think?