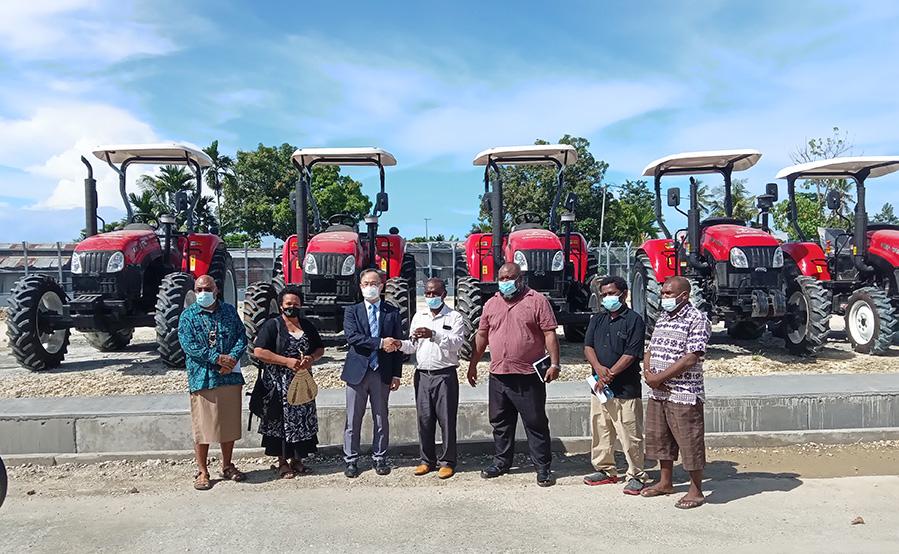 The Peoples Republic of China (PRC) today donated five tractors worth more than $800,000 to the government – which then delivered to two local farmers and three to the Ministry of Agriculture and Livestock.
Minister of Foreign Affairs Jeremiah Menele took delivery of the tractors from Chinese Ambassador Li Ming in the presence of the Minister of Agriculture Augustine Auga and senior officials from both governments and the recipients. Sape farm on Guadalcanal receives one tractor and the other goes to Malaitan based Goshen— the remaining three will be managed by the ministry of agriculture.
Minister of Foreign Affairs Jeremiah Manele in accepting the tractors said they will no doubt increase productivity for taro and cassava farming – bringing the cost of production down as well as increase output for local consumption and export.
Sape farm is engaging in cassava farming with the intension to exporting its cassava later this year— whilst Goshen focuses on taro with the view to exporting in the future.
The PRC funding is channeled through the Ministry of Foreign Affair's under the World Trade Organisation's Enhanced Integrated Framework (EIF) programme. In this case, it is focused on agriculture especially taro and cassava.
Manele said the donation reflects the depth and the strength of Solomon Islands and PRC's relations in the last 18 months—since establishing diplomatic relations.
He thanked the PRC Government saying this is a powerful message to the farmers as they work to open up opportunities. The tractors come with trailers and ploughing disks.
Ambassador Ming said the donation of the machineries demonstrates China's support to the people in the rural area of Solomon Islands.
He hopes that the machinery would further improve the local farmers' production capacity.
Sape farm's Dr Paulson Bosawai said he was thankful for the support from China via the government. In particular, he acknowledged the government for recommending his farm to benefit under the project.
He said they will use it to maximize their production.
Likewise, Goshen's Levite Luciano Maesimae recognize the government for choosing his farm and the PRC for funding it.
He said they had been waiting for this for so long as they have been farming—using their hands – stating the machine would greatly help them.
Maesimae informed the gathering that they started as a small farm in 2019 then slowly to where it is now where it is now consisting of about 200 farmers across the island. They are 'taro' focused.
Caption: L-R: PS of Agriculture Ethel Frances, PS of Foreign Affairs Collin Beck, Ambassador Ming, Minister of Foreign Affairs Manele, Minister of Agriculture Augustine Auga, Sape Farm's Dr Paulson Bosawai & Goshen's Levite Luciano Maesimae today in Honiara. At the back are the tractors.
What you think?