Australia Backs Business Manual for Rural Women
Dignity Pasifik this week launched their Rural Women's Business Development Manual which was developed with the support of the Australian Government's private sector development program, Strongim Bisnis, and development consulting company, Square Circle.
Dignity Pasifik is a women-led social enterprise specialised in research, training and market Information, mainly focussing on women's economic empowerment.
The combined support from Strongim Bisnis and Square Circle is intended to help Dignity Pasifik support women entrepreneurs, especially in rural areas and mainly in the informal economy.
Director of Dignity Pasifik, Ruth Maetala says that creating a sustainable network of Business Advisory Service Providers (BASPs) in different provinces for women entrepreneurs will help address many of the gender-based barriers faced by women.
"Our hope is that once women have access to BASPs and see the real benefits to their business, it will encourage women to use Business Development Services more," Ms Maetala says.
"Women will be more likely to consider investing in training to become BASPs because of this," Ms Maetala says.
Economic empowerment of women is a critical component of Australia's partnership with Solomon Islands, Australian High Commissioner Dr Lachlan Strahan says.
"Australia is committed to supporting women to develop businesses, participate in the formal economy and take positions of leadership in their communities."
"Women who want to break down barriers to economic empowerment often find it difficult to get the advice that they need, so it is great to see the launch of Dignity Pasifik's manual to help female business owners develop across the country."
"The use of the Rural Women's Business Development Manual has great potential to impact the lives of women. Australia is pleased to support Dignity Pasifik and this work" Dr Strahan says.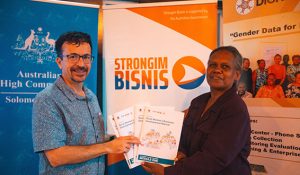 The manual is a very timely and welcome contribution to unlocking the economic potential of women in our provinces the Permanent Secretary of the Ministry of Commerce, Industry, Labour and Immigration (MCILI) Riley Mesepitu says,
"It is great to see such a practical and relevant tool for our rural women being produced through the partnership between Strongim Bisnis, Square Circle and Dignity Pasifik," Mr Mesepitu says.
"Breaking down the barriers facing rural women in business is an important priority for our country and I want to thank the Australian Government for their support through Strongim Bisnis for our efforts in this crucial crosscutting area."
Strongim Bisnis' Women's Economic Empowerment and Social Inclusion Director, Gianluca Nardi says that gender-based barriers relating to women owned and managed businesses in the Pacific region are well documented and Solomon Islands is no exception to this.
"Gender-based barriers include limited access to training, finance and business development services in general." Mr Nardi says.
The Rural Women's Business Development Manual will be used for the training of business service providers from the Government, local Civil Society and individual trainers who will support businesswomen in rural areas.
 PRESS RELEASE
What you think?