Central Islands now has a new premier.
He is Hon Polycarp Galaigu MPA Ward 8 North West Ngella who stood unopposed for this morning's election.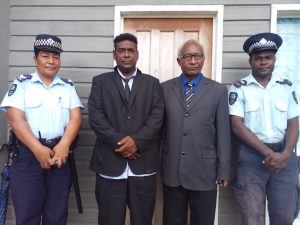 Galaigu had the support of 8 MPAs who were present this morning.
He replaces Stanley Manetiva who was ousted yesterday in a day of drama in Tulagi.
Meanwhile, former premier Stanley Manetiva was voted out yesterday in his absence and four of his ministers. The MONC was allowed to go on in the morning though the Attorney-General's Chamber advising — in the afternoon — that tabling of the motion today would be seen as invalid.
Six Non-Executive Provincial Members (MPAs') and two former ministers of the Manetiva Government who resigned from him recently attended the assembly, debated the Motion of No Confidence Against (MONC) Manetiva and eventually voted on it. All 8 MPAs' voted in favour of the motion.
Manetiva confirmed to SBMOnline that he didn't attend yesterdays assembly this is based on advice from the AG Chamber that the meeting was scheduled for 13th June.
The AG's Chamber had written to the province not to hold the sitting as it was illegal.
SBMOnline2022
What you think?