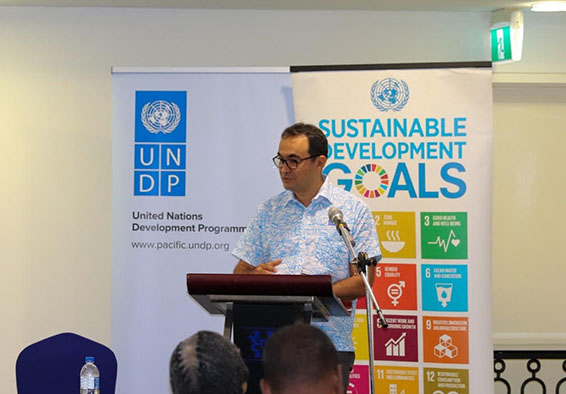 Honiara, Solomon Islands, September 8 – A two-day strategic planning workshop organized by the UN Development Programme in the Pacific under the Transparency and Accountability (Solomon Islands) and Strengthening Anticorruption, Transparency and Accountability in Pacific Island Countries Project' ('Pacific Anti-Corruption Project') projects was held to maintain cooperation and coordination efforts of the oversight and integrity institutions in fighting corruption.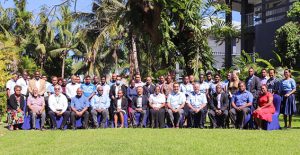 More than 50 representatives from oversight and integrity institutions gathered to identify and build consensus on possible areas of intra-institutional cooperation related to exchange and use of information, investigative assistance, case referrals, and other issues.
Ambassador of Japan to the Solomon Islands, His Excellency Miwa Yoshiaki expressed his appreciation to UNDP and the Government of Solomon Islands for the continuous cooperation in tackling such an important and challenging issue, as corruption.
"Establishing a partnership with the Solomon Islands Government and UNDP Solomon Islands gave us the confidence to face this complicated issue," H.E  Mr. Miwa stated.
Mr Miwa is optimistic that the Japan funding would bring about a bright and prosperous future in society, with good leadership of the Solomon Islands government.
Addressing the representatives from the Government, Mr. Steve Auld, British Deputy High Commissioner to Solomon Islands and Nauru stressed that the UK Government is "pleased to be supporting this significant piece of work as part of our wider strengthening of transparency and accountability across all UK programmes in the Pacific"
"Tackling corruption is vital for sustainable development, and we are grateful to work hand-in-hand with the Solomons Island Government and UNDP to provide essential services and build a sustainable future," Mr Auld concluded.
Ms Florence Joel, the Deputy Secretary to Cabinet, emphasized the importance of the fight against corruption and reiterated the firm commitment to "advocating for and promoting transparency and accountability among oversight and integrity institutions."
"To the Government, the importance is clear – fighting corruption is the key to building trust in government and it is an essential ingredient for robust and sustainable growth," she further added.
Ms Joel acknowledged and expressed her gratitude on behalf of the Solomon Islands Government to all development partners, "We are pleased to continue working together to strengthen the bonds of partnership and cooperation between the Solomon Islands Government and UNDP, and the Governments of the UK and Japan in the areas of supporting sustainable development, achieving transparency and integrity, combating poverty and corruption, and strengthening the role of civil society institutions."
Ms Anika Kingmele, Vice Chairlady emphasized the importance of working together "we are here today because we understand that only together can we move towards a future free from corruption."
"Each of us here today understands where and what kind of support is needed. This is an important event not only for SIICAC but for everyone as here we define our next joint steps and strategies to get rid of corruption," Ms. Kingmele concluded.
Echoing the same sentiments, Mr. Berdi Berdiyev highlighted the critical importance of addressing corruption and its impact on achieving the Sustainable Development Goals.
"Corruption has long been an issue of public discontent and is an obstacle to sustainable development in Solomon Islands.".
Mr. Berdiyev further reiterated the UNDP's commitment to "working with the Government, oversight and integrity institutions, and all relevant stakeholders to strengthen inter-institutional anti-corruption coordination in Solomons."
As part of the joint effort between UNDP Offices in Fiji and Solomon Islands, a Memorandum of Understanding (MoU) is being finalized to facilitate the cooperation between Fiji Independent Commission Against Corruption (FICAC) and SIICAC and promote a peer-to-peer exchange of information.
The Solomon Islands Oversight and Integrity Inter-Institutional Dialogue to Strengthen Inter-Institutional Anti-Corruption Coordination was hosted by the UN Development Programme, through the collaboration of two closely aligned projects, the Transparency and Accountability Project (TAP), funded by the Governments of Solomon Islands, Japan and the United Kingdom, and the Strengthening Anticorruption, Transparency and Accountability in Pacific Island Countries Project' ('Pacific Anti-Corruption Project') funded by the United Kingdom Government who have been actively working with Pacific Island countries to support their obligations as parties to the relevant international and regional instruments, including the United Nations Convention against Corruption and the 2030 Agenda.
With the 2030 Agenda as a guiding thread, UNDP aims to reduce corruption and develop effective, accountable and transparent institutions at all levels to ensure effective and timely achievement of national development outcomes.
What you think?