Solomon Ports receives certificate from SI Red Cross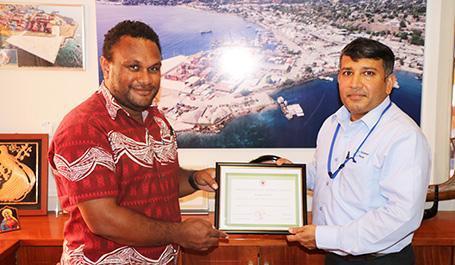 Sponsored Advertisement

Solomon Ports has received a 'Certificate of Appreciation' from the Solomon Islands Red Cross society in recognition of valuable contribution in support of their fundraising initiative.
The award was handed over to SIPA's chief executive officer Mr.Eranda Kotelawala by the SI Red Cross General Secretary Clement Manuri at SIPA headquarters in Honiara on Wednesday 19th August.
The certificate was purposely to thank Solomon Ports for selecting Red Cross in providing lunch catering service for its staff since the start of this year.
Red Cross now provides lunch boxes to SIPA workers for every working days.
This ongoing support by Solomon Ports to continue to allocate this catering service to Red Cross also comes at a right time, especially with the current financial constraints by faced by non- profitable Organisation, instilled by the global Covid-19 Pandemic.
Speaking during the brief handover ceremony, SI Red Cross Secretary General Mr. Clement Manuri thanked Solomon Ports for continuing to trust the catering services they provide, which will assist their finances in ensuring they continue their essential work around the country.
Mr. Manuri said apart from many of their agreements, this agreement with Solomon Ports was one of the important ones they have.
He said in the past they mostly depend on public and external donations, but with the emergence of Covid-19, this has become a challenge.
"What we get from this support is that it will help us continue our programs, especially with blood donations, which we know Solomon Ports is one of our good donors as well," he said.
"We also have our volunteers out in the provinces doing Covid-19 awareness as well, which we thank Solomon Ports for trusting our service which will help us with our work."
Meanwhile Solomon Ports CEO, Mr. Kotelawala said he was very pleased with the feedback from his staff on the satisfactory service provided by Red Cross.
Mr. Kotelawala said he was pleased that this catering service will not only improve their cash flow but will largely maintain the good work they are doing around the country.
He said both SIPA and Red Cross will benefit from this service, as the catering service Red Cross has seen the introduction of much healthier diet for SIPA staff, which will promote a healthier lifestyle.
"What I request of Red Cross is to continue the good service are providing and continue to improve as well," he said.
"In future we need your assistance and recommendations on the types of food or diets that our staff should eat in order to maintain a healthy life."
ENDS////
What you think?