SOAKI: SI HIGH COM DESIGNATE TO PNG 
Solomon Islands High Commissioner designate to Papua New Guinea His Excellency William McDonald Soaki was commissioned today (09th August).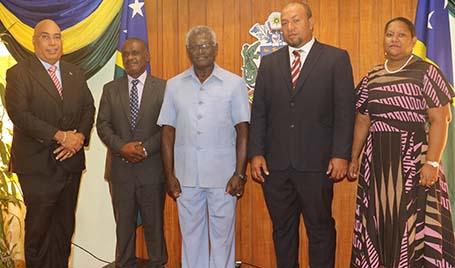 Prime Minister Manasseh Sogavare administered the Commissioning ceremony at the Office of the Prime Minister and Cabinet in the presence of the Minister of Foreign Affairs and External Trade, Jeremiah Manele, senior Government Officials and Family members.
Congratulating the High Commissioner designate, Prime Minister Sogavare said, "your task is, first and foremost, to represent and promote the interests of the Government of Solomon Islands in the country to which you have been accredited. The Government and people of Solomon Islands, expect you to provide sound advice and deliberations on all matters during your tenure in office."
Sogavare further advised the High Commissioner designate not to compromise his official duties with personal interests and other forms of persuasions during his term in Office.
The Prime Minister also reminded the Commissioner, he is the link between Solomon Islands Government and the Government of Papua New Guinea and that his office and home will be the safe haven for Solomon Islanders in times of need.
High Commissioner Soaki was reminded to always strike a balance between the effective discharge of his mission and minimize costs which requires tact and diplomacy.
Prime Minister Sogavare is confident that His Excellency Soaki is eminently fit in his personal qualities and experience in the affairs of State for the charge the Government of Solomon Islands has entrusted on him.
His Excellency Soaki, in his short remarks expresses gratitude to the Honourable Prime Minister and Government for the confidence in appointing him as the country's designated High Commissioner to Papua New Guinea.
High Commissioner Soaki said, he will ensure the High Commission also increases its engagement with other government agencies in PNG, the Private sector and civil society. He is ready to advice the Solomon Islands Government on areas we can take full advantage of shared mutual understanding and cooperation.
"Be assured, that I will serve as High Commissioner in the most respectful and dignified manner and reflect the principles and values of our country."
Mr Soaki was the former Solomon Islands High Commissioner to Fiji.
High Commissioner Soaki replaces former High Commissioner to Papua New Guinea, the late Barnabas Anga who passed away last month.
ENDS///.
What you think?