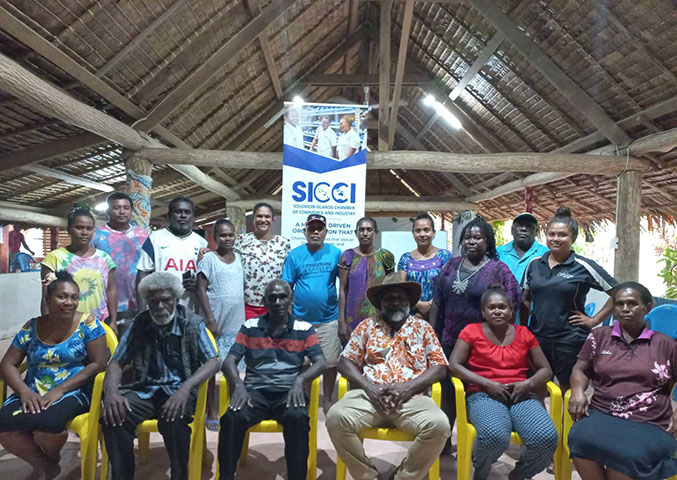 Thursday 22 September, Honiara – The Solomon Islands Chamber of Commerce and Industry (SICCI) continues with its outreach strategy to engage with businesses in provincial urban areas after successfully conducting a two-day business training this week in Gizo, Western Province.
Focusing on basic record keeping, financial management and customer service, SICCI delivered the training in partnership with the Solomon Islands Small Business Enterprise Centre (SISBEC) from 20 to 21 September at the Outback Living in Gizo.
SICCI's Membership and Services Officer, Ms Simaema Neilsen, who was in Gizo this week, said these training needs were identified following consultations with businesses earlier this year.
"In May of 2022 we visited Gizo and hosted members to an online presentation by the Central Bank of Solomon Islands who presented on Economic Outlook and opportunities for business.
"This was followed by consultations and identifying keys issues facing businesses and key priority training needs, in which we found financial Literacy and customer service to be on the top of the list, hence bringing back this training to our members in Gizo.
"It is vital for businesses to be financially literate and to meet basic standards in order to successfully run and grow a business. SICCI is providing a very important service to businesses in the province that would otherwise be unable to access them," she said.
A total of seventeen (17) businesses, who are members of SICCI, benefitted from the training and received recognition certificates from the Chamber.
Mr Ivan Maike, Owner of Reckona Lodge was one of the participants and described the training as very useful and timely.
"It is very important to keep records and manage finances," he said. "A lot of people have just started going into this and it is good that SICCI recognises the need to come down to the province with this training to assist us businesses in the area of book keeping and financial management," he added.
Mr Maike said it is refreshing as a business to undergo this training.
"I have been in business for a long time but it does not mean I cannot learn new things especially when looking at managing your business's cash flow and finances," he said.
Half of participants at this training were women doing business or are involved with business activities in and around Gizo and one of them is Ms Nanette Panda, who owns A2Z Business Advertising.
"I found the training to be an eye opener.
"It has helped me to look ahead at what I can achieve now that I have attended this training. I have learnt new skills and I am now more focused on making future plans for my business," Ms Panda said.
SICCI's Membership and Services Officer, Ms Neilsen said apart from delivering trainings, these provincial trips are also aimed at getting insights on some of the issues businesses are faced with and explore ways to address these issues.
"It is important for the Chamber of Commerce to support and provide an avenue for rural entrepreneurs to start networking and find out what support is available.
"It is also important to help businesses to connect with customers and to network," she said.
This aligns with one of the key objectives in SICCI's Strategic Plan 2019-2023 to improve their capacity and grow their businesses, leading to greater contribution to the country's economy through job-creation and revenue for Government.
SICCI Chief Executive Officer (CEO), Ms Natalina Hong said the Chamber recognizes that a large number of its membership is based in Honiara.
"As such, it is important for SICCI to provide an avenue for rural-based entrepreneurs to have access to practical trainings. Not only that but to also be plugged into the Chamber network and utilise the different services and support we have going on for our members.
"The Chamber prioritises this engagement with businesses in the provinces in order to better represent the Solomon Islands private sector. Ultimately this meets the SICCI goal of contributing to economic development across the country, and not just in Honiara," the SICCI CEO said.
In a recent survey with members in Auki, it was also identified that the key training priority needs for businesses was Finance and Customer Service. Thus, SICCI is looking forward visiting Auki in October to facilitate this training for our members. SICCI will also be visiting our members in other provincial centers in the coming months.
What you think?