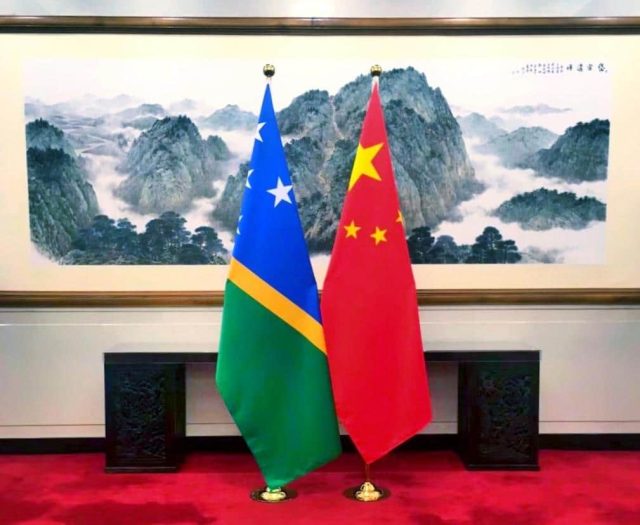 The much debated Security Treaty between Solomon Islands and the Peoples Republic of China has yet to be signed, confirms the Permanent Secretary of Foreign Affairs, Collin Beck today.
It was, however, only initialed by PS Beck and Chinese Ambassador LI Ming this week.
Following some media reports referring to the initialing as the signing ceremony, Beck in response to SBMOnline query this afternoon confirmed that they only initialed the treaty whilst the signing ceremony will take place at a later date. Beck, however, could not confirm the date for the signing.
But he revealed that the signing of the Security Treaty will be done at the ministerial level between the two countries.
Chinese Ambassador to Solomon Islands' LI Ming and Permanent Secretary Beck had initialed the Framework Agreement Between the Government of the PRC and the Government of Solomon Islands on security cooperation.
A statement issued by the PRC Embassy in Honiara stated that the as two sovereign and independent countries, China and Solomon Islands are committed to normal law enforcement and security cooperation on the basis of equality, respect and mutual benefit, which conforms to international laws and customary practices.
The security treaty had caused waves of concern around the region especially Australia and New Zealand with fear that China might establish its Military Base in the Solomon Islands under the accord.
But Prime Minister Manasseh Sogavare reiterated in his national address yesterday that: "Our agreement with China focusses on development cooperation. The security aspects will only be invoked if we are not able to secure the full spectrum of the support needed from the Pacific family or to support identified gaps should these exist. A wider and broader security arrangement with our bilateral partners will also instil investor confidence. We cannot attract investors if our internal security situation is fragile. Security is important to progress development."
Sogavare said: "Our partnership with China is not to undermine Australia's national security. Rather it is to augment and supplement what Australia is already doing. The development and needs of our people is very important to us. As a country we are duty bound to advance the developmental needs of our people and protect is as well."
What you think?