NDC now takes on the role of domestic vessels and aircraft exemptions
The Government through the National Emergency Operations Centre (NEOC) says as of Friday 18th March 2022, the National Disaster Council (NDC) has taken on the authority in exemption vessels (ships) and aircrafts domestically.
The Chief Operations Officer of National Emergency Operations Centre (NEOC) Mr. George Baragamu stated at as of Friday 18th March 2022, Gazette 106, Order 6(4) of the Emergency Powers (COVID-19) (Honiara Emergency Zone) (Restriction of movement of vessels and aircrafts) (Amendment) Order 2022 has given the Chairman of the National Disaster Council the authority to exempt vessels and aircrafts to exit and enter the Honiara Emergency Zone.
Mr. Baragamu added that Exemption is only for vessels and aircrafts meaning that NDC does not issue exemptions for individuals or persons, but only to the vessel (ship) or aircraft.
Step 1 is the application request to the NDC Chairman through SIMA. Application must contain the following:
Registration status and compliance with SIMA Act
Crew health, vaccination and COVID-19 status
Historical voyage data (last 2 weeks)
Intended departure date and time
Destination of voyage
Number of passengers
Port of Calls
Whether vessel intends to pick-up passengers
Step 2 is the endorsement by the NDC Chairman and forwards the application to SIMA or CAASI and MHMS for maritime or aviation and health requirements formalities.[MM1]
Step 3 is Technical Assessment which include SIMA or CAASI and MHMS verification of information and health risk assessment within 48 hours by which recommendations based on the agencies technical assessments is returned to the NDC Chairman.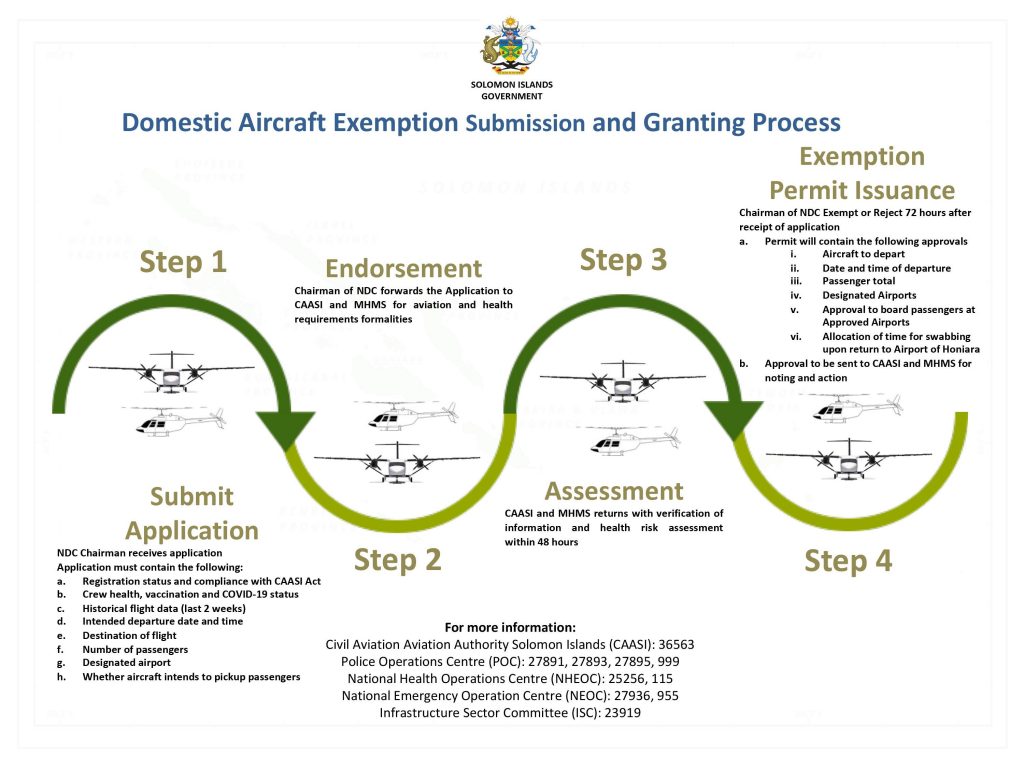 Step 4 is the Exemption and permit issuance. This is the step by which the NDC Chairman Exempt or Reject 72 hours after receipt of application
Permit will contain the following approvals

Vessel or aircraft to depart
Date and time of departure
Passenger total
Designated Sea or Air Ports
Approval to board passengers at Approved Sea or Air Ports
Allocation of time for swabbing upon return to Port of Honiara (Point Cruz domestic wharf and Honiara domestic airport terminal)

Approval to be sent to SIMA and MHMS for noting and action
Mr. Baragamu added that the exemptions are premised on the following conditions:
Vessel or aircraft to comply with Marine Safety and Aviation Safety Conditions;
Vessel or aircraft owner, Operator, Charterer, Crew Members and passengers to maintain and comply with Infection, Prevention and Control protocols for COVID-19 issued by Health Authority;
Vessel or aircraft shall discharge at the Province's approved sea ports or air ports
Position report to MRCC and CAASI at arrival/departure of each port
No changes of Crew unless authorised by SIMA, CAASI and Cleared by Health
Vessels or aircrafts in breach of the Order commits an Offence pursuant to Regulation 17(3) of the Emergency Powers (COVID-19)(No.3) Regulations 2021
"3. If a vessel or aircraft, or a member of the crew of a vessel or aircraft, is moving into, within or out of Solomon Islands in contravention of the Order, each of the following persons commits an offence: (a) the owner of the vessel or aircraft; (b) the operator of the vessel or aircraft; (c) the charterer of the vessel or aircraft; (d) the owner of cargo carried on the vessel or aircraft. Maximum penalty: 1,000,000 penalty units or imprisonment for 20 years, or both."
The Head of NEOC Operations added that given that Gazette 90 has removed the restrictions on the movement of persons and Gazette 91 removes the restrictions of the movement of small crafts and outboard motor vessels, persons do not need exemption in order to travel domestically.
Mr. Baragamu added that with Gazette 106 now in effect, resumption of domestic cargo and passenger vessels and aircrafts services are now fully operationally with conditions attached. The key conditions that persons require to be able to travel domestically include the following;
be fully vaccinated against COVID-19; and
(b) have his or her vaccination certificate at all times; and
(c) wear a face mask; and
(d) practice social distancing; and
(e) wash his or her hands frequently; and
(f) use hand sanitizer frequently;
(g) must practice COVID-19 safe measures within 10 days of his or her arrival to the intended location
To travel domestically, person should go directly and purchase tickets from the vessel or aircraft operators/sales agents with proof of being fully vaccinated and tested negative for COVID-19. NDC through NEOC does not give any form of approval to individuals or persons. However, it is the responsibility of the vessel or aircraft owners or operators to submit to SIMA or CAASI the passenger manifest 24 hours before departure. Similarly, the master of the vessel or the captain of the aircraft is to submit the final passenger manifest to SIMA or CAASI prior to the departure from the last port of call or airport. Noting that the passenger manifest are important for the Ministry of health COVID-19 pre-departure and arrival protocols, and the for NDC exemption consideration on vessels and aircrafts and for notifications to the respective Provincial Disaster Operations Committees (P-DOCs').
The head of NEOC operations encourages the traveling public to and from Honiara and the Provinces to complete their vaccination, get tested for COVID-19, and adhere to the Ministry of Health COVID-19 protocols.
Ends///
---
[MM1]Re-look at this, its confusing.
What you think?