The Land Board on Monday elected a female chairperson Mrs Samantha Tuti to lead the board in the next two years.
Tuti had been the vice chair until her new appointment – taking over from Alfred Soaki whose two years ended on Monday.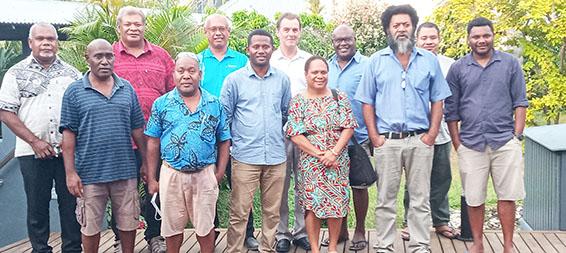 She came into the board as a representative of the women and her latest appointment makes her the first woman to lead one of the most important boards in the government set up.
She was welcomed to the board on Monday night and will be joined by former Guadalcanal Premier Stephen Panga as her vice.
Tuti said she looks forward to the challenge and thankful for the confident that her colleagues have in her to give her the honour to lead the board.
She adds that it is a new experience for her and but with her experience in other boards previously and currently would help her in her new role.
Other new board members include: Dr Divinal Ogaoga, Waeta Ben, Natalina Hong and Commissioner of Lands Alan McNeil. Dr Ogaoga & Panga are new board members.
The Land Board makes all decisions relating to allocation of interest in registered land in Solomon Islands. This includes the power to grant and transfer Fixed Term Estates, the power to set land premiums and rentals, the power to decide whether to allocate interest in land by direct allocation or by ballot or auction, and the power to grant temporary occupation licenses.
The Land Board was formed after the National Parliament passed the Land and Titles (Amendment) Act 2014, which came into effect on 1 December 2014. Prior to this, all decisions on allocation of interest in land was done by the Commissioner. In some cases, the Land Board has delegated certain types of decision-making back to the Commissioner of Lands, including transfer of Fixed Term Estates between non-government parties.
What you think?