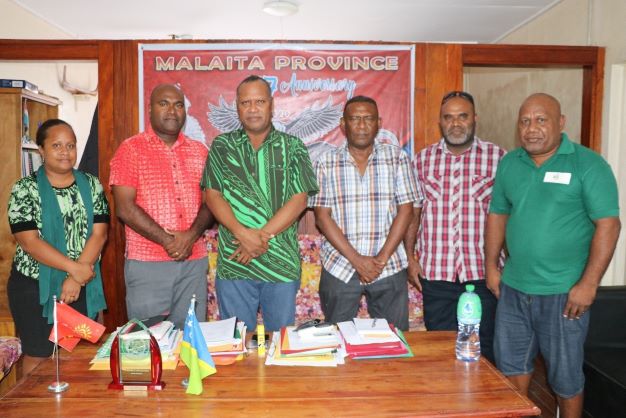 The Permanent Secretary of the Ministry of Rural Development (MRD) Dr. Samson Viulu has paid a courtesy visit to the Honourable Premier of Malaita Province Daniel Suidani at his Office in Auki yesterday (Tuesday 14th September, 2022).
During the meeting, PS Viulu explain to the Premier the purpose of MRD official's presence in Auki which is to conduct a two-days consultation on the first ever Solomon Islands Constituency Development (SICD) Policy with its stakeholders.
It was a fruitful meeting as PS Viulu and Premier Suidani traded positive sentiments and encouragement during their discussion in the presence of Malaita Province Deputy Premier and Malaita Provincial Secretary (PS).
PS Viulu acknowledged the Premier for accepting him and his team into his office for the meeting and also for the opportunity to meet him in person and brief him (Premier) on the Solomon Islands Constituency Development (SICD) Policy concept which now undergoing nationwide consultations.
"Our presence here in Auki is to do a two-days consultation on this new policy initiated by MRD called Solomon Islands Constituency Development (SICD) Policy.
"…MRD was established in 2007. However, it did not have any standing or development policy to guide its operation over the years. So, SICD Policy will be the first ever policy the ministry is embarking on and once realized it will help the ministry in reforming constituency developments.
"This policy will also guide our constituency offices to see what areas should be prioritized with more emphasis towards reforming development in our constituencies.
PS Viulu further told Premier Suidani that the consultation on the new policy is to gather honest views from rural people on the policy framework which will lead to reforming the CDF Act 2013.
He said that having an improved and robust mechanisms to guide MRD in its management of the CDF is of paramount importance.
'The idea to repeal the existing CDF Act is also forthcoming to replace it with Constituency Development (CD) Act so it accommodates every development approach and not just the fund," PS Viulu told Premier Suidani.
"Our task force will commence drafting of the policy once we completed all consultations. With the political support that we have now, we want to make sure that this policy is complete in time for further deliberation at the government level," PS Viulu added.
Meanwhile, Premier Suidani in response acknowledged PS Viulu for the courtesy visit where they were able to share together thoughts on a way forward for CDF.
The Premier said that perhaps PS Viulu is the first person in his capacity as the Permanent Secretary of MRD to have visited his office and discuss constructively on ways to improve the management of CDF.
Premier Suidani took the opportunity and shared his knowledge and concerns surrounding the CDF and its effect on the lives of our people and he said despite these concerns, he assured PS Viulu that he will support the CDF reforms and the current SICD Policy consultation and its framework.
He also highlighted decentralization of government services to the rural populace and how he ponders this policy will really help Malaita constituency to really feel the positive impact of CDF.
"If we really want to see our people involved meaningfully in development then this policy must capture the decentralization of government services with the assistance of the reformed CDF Act," he added.
He also voiced his concern about the management of CDF and what mechanisms are in place to hold our leaders accountable if the funds are mismanaged.
He said having robust financial mechanisms in place will guide our Members of Parliament to be accountable in how they use this public fund.
"I support this policy and your ministry to make this policy come true not only for our leaders but for the rural population of this country.
"I encourage you and your ministry to carry on with these good works because I believe you can lead this work as an accountable officer for MRD," he said.
PS Viulu thanked Premier Suidani for his support and encouragement and assured Premier Suidani that the current government is very supportive and would like to see this policy succeeded with other new and existing reforms under MRD.
PS Viulu was accompanied by MRD senior officials which include Financial Controller Timothy Paoka, Human Resource Manager Joy Tealiklava and Principal Communication and Public Relations Officer Andrew Jr. Fanasia.
MRD Press Release
What you think?