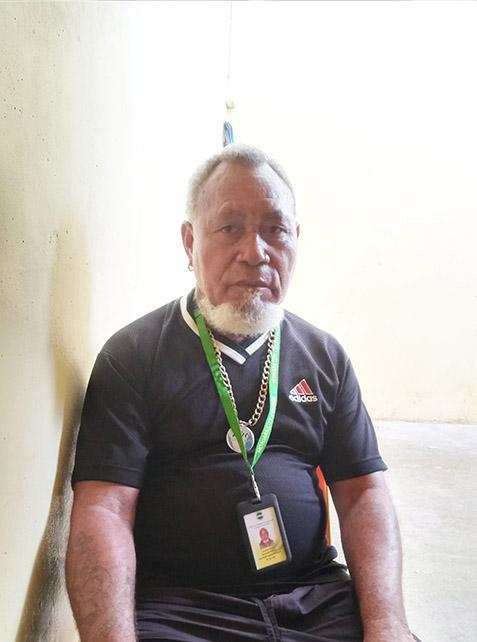 City residents using the underground tunnel at the Central Market would have seen a security guard or a watch-man now sitting at the end (market-side) and also witness the underpass is now clean though the walling is still coloured with betel-nut stain.
Joseph Boeni is the latest recruit by the Honiara City Council to ensure the underpass is maintained and no rubbish is thrown or walls are spewed with betelnut stain.
Since its opening two years ago, the underpass had been repainted by volunteers several times but in a matter of days careless users would spew betelnut stain on the walling – and dumped rubbish on the walkway.
Just recently, the HCC engaged Boeni to look after the underpass and tasked with the responsibility of ensuring it is maintained and cleaned.
"When I first arrived here this place was stink, rubbish was everywhere and not many people used the walkway. It was in a very bad state.
"I then start to clean it and ensure it stays that way each day. When people throw rubbish I told them to pick it and put it at the right place. I have approached a lot of people in a nice-way and told them that we all need to look after the tunnel because it is in our city, our home," Boeni told SBMOnline.
He said a lot of city residents including expatriates would stop by and gave him thumbs up for what his doing.
Boseni said currently and his daughter are engaged by the Council and she is responsible for cleaning the underpass.
"It helps me as I look out for people and ensure they respect the underpass – whilst my daughter cleans it," he said.
Boeni said he really wants to see the underpass clean at times and appeals to residents to respect it.
He said with the tunnel now cleaned everyday he would like to see it is painted – to give it a new look.
"I am sure it will be clean for a long time than before," he said.
According to Boeni, he's engaged for only three months by the council and it's up to them to extend his tenure or not.
"Right now I am here to do the job I am tasked to do which is to ensure that the tunnel is clean all the time," he said.
The tunnel usually opens from 7.30am to 6pm.
News@SBMOnline2020
What you think?