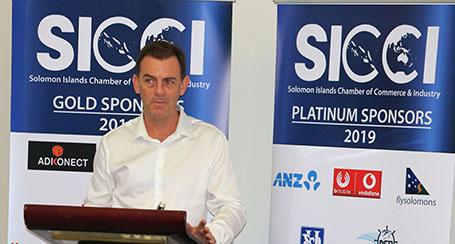 Commissioner of Lands Alan Mcneil has given one-month notice to the new owner of the controversial land sold by the Honiara City Council which was used for a Biosecurity quarantine incinerator to return it within 30 days.
The land got into spotlight after it was discovered by the Ministry of Agriculture and Livestock that the HCC had sold it to an Asian company Excellent Resources Management Limited without their consultation. It has caused a huge public outcry and call for the land to be returned for public good in this case the biosecurity quarantine incinerator, which was used to dispose of aviation and other toxic wastes.
Mcneil in a letter to the new owners and an individual by the name of Lam says: "I refer to Grant of Fixed Term Estate ("FTE") over Parcel 192-010-033 ("the Grant") dated 26 September 1986 to Honiara City Council. This FTE was subsequently transferred to your company.
"In accordance with Clause 3 of the Grant, the Grantor (Commissioner of Lands) has the right, on giving one month's notice in writing to the Grantee, to take back such portion of the land that may be needed for roads or other public purposes. Since the FTE has been transferred to you, this right of resumption can be exercised over your FTE.
"The whole of Parcel 191-010-033 is required for the purpose of biosecurity quarantine incinerator. As such, I am hereby giving you one month's notice that the FTE over this parcel is to be resumed for this public purpose. You are required to do all things necessary to allow the Grantor to take back possession of this land."
Mcneil had last week told this magazine that he acted on legal documents provided by the HCC and approved in a meeting as per the minutes he had received from the Council. The minute stated that eight councillors including the Clerk attended the meeting.
But some councillors had already come out publicly to deny they had attended the meeting and that itself had raised questions about the validity of the minutes.
Mcneil told SBMOnline last week that he had no knowledge that the land was used by MAL to house the biosecurity quarantine incinerator.
MAL has already come out to applaud the commissioner for his prompt action.
What you think?