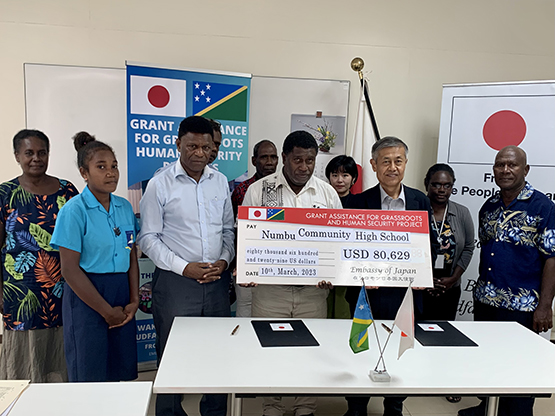 By Timothy Inifiri Jr
The Ambassador of Japanese H.E. MIWA Yoshiaki and the School Principal of Numbu Community High School, Mr. James Sikua,  signed the grant contract for the "Project for construction of Classroom building for Numbu Community High School", under the Grant Assistance for Grass-Roots and Human Security Projects (GGP) programme today in Honiara.
The 80,629 USD project by the Japanese Embassy aims to improve education services infrastructure with the focus on basic education in Solomon Islands.
Speaking during the grant signing Yoshiaki said that the grant assistance will enable the school to provide appropriate educational environment for students.
"One of the priority areas of our assistance under the Grassroots and Human Security Scheme is supporting basic education. Education plays a key role in the development of the society and the country"
"Solomon Islands is still a young country with with a lot of children with many dreams, therefore we believe that this project will have positive impacts on the socio-economic development of Solomon Islands, and hopefully it will strengthen further cordial relationship between Solomon Islands and Japan", he said.
Yoshiaki also emphasized that with the commitment of surrounding communities, he is confident that the project will be successful and be remembered as a symbol of the friendship between the two countries in years to come.
In response, Sikua thanked the government and the people of Japan for the approval of the project and added that it has been an answer to their prayers that their request is considered in such a timely manner.
"The whole community of Numbu have anticipated this project for almost three years and by now they are fully aware of what your government responses are like".
"Let me convey our heartfelt gratitude for such an honor to response positively to our request and be willing enough to fund such an important project which will serve its intended purpose for the next 50 years or so, for our growing population", said Sikua.
With the Guadalcanal Provincial Education Authority in the past years recommending Numbu CHS to establish Form 6,  Sikua confirmed a resolution was passed from their school board meeting that Form 6 Science will eventuate by 2024 prior to the approval of the project.
"The school cannot run form 6 classes because of the very limited resources at hand. We must make sure our young learners must not be denied with better study equipment. Today this challenge is now over", he added.
The grant contract signing was also witnessed by the Deputy Premier and Minister of Education for the Guadalcanal Provincial Assembly Hon. Lazarus Rina.
The assistance to strengthen basic infrastructure in education sectors such as construction of schools, staff houses or dormitories comprises one of the priorities of the grassroots and human security projects by Japan.
What you think?