GOVT COMMITTED TO SUPPORT THE REBUILDING OF RSIPF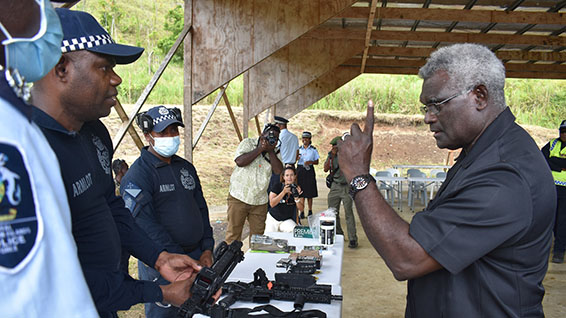 Sponsored Advertisement

Rebuilding the Royal Solomon Islands Police Force (RSIPF) is one of the priority objectives of the Democratic Government for Advancement (DCGA) in view of the changing domestic security landscape after the ethnic tensions.
Prime Minister Manasseh Sogavare highlighted this today at a Public Order Management (POM) Interoperability Response Capability Exercise at the Firing Range at Tenaru.
Sogavare highlighted that addressing the security capacity of the RSIPF- the country's security apparatus and personnel is very important.
He further highlighted that the capacity of the RSIPF has continued to be an issue, even leading to the collapse of the country in year 2000.
The Prime Minister affirmed that the rebuilding of the force started in 2003 when the Regional Assistance Mission to Solomon Islands (RAMSI) came to restore law and order, adding that it was a struggle to rebuild and put the force together.
PM Sogavare highlighted that it has been the government's objective to rebuild the RSIPF into one of the best security forces in the region.
The Prime Minister, however, recalled that the riots of 2006, 2019 and recently in 2021 were stark reminders of the need to continue to improve the capacity of the RSIPF.
PM Sogavare also acknowledged Australia for the continuous support to improve the capacity of the RSIPF, and further made the assurance that Australia will remain the partner of choice for Solomon Islands- Australia will always be the first to be called upon should the country needs external assistance.
End
OPMC Press
What you think?