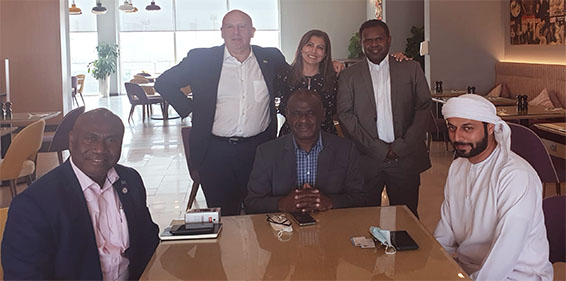 The Minister of Foreign Affairs and External Trade, Hon. Jeremiah Manele met with a group of prospective investors from the United Arab Emirates on Sunday 3 July in Dubai after returning from the UN Conference on Oceans in Lisbon.
In attendance were Dubai business entrepreneurs Mr. Alessandro Rosso, Emirati national Mr. Mohamed Alblooshi, and Ms. Dina Mustafa.
The meeting focused on the potential interest of investing in the areas of Tourism, Water Management, Water Bottling and Purification, Waste Management, and Sustainable Development.
Mr. Rosso and his group have held several meetings with Ambassador Moses Kouni Mose during the recent Expo 2020 Dubai event with plans further to establish their business interest in the Solomon Islands.
Mr. Rosso also confirmed that he plans to visit the Solomon Islands in September to explore potential investment opportunities.
The presence of our Solomon Islands Pavilion at Expo 2020 Dubai has generated a lot of interest with more foreign investors realizing the potential investment opportunities that the Solomon Islands has to offer.
ENDS///
What you think?