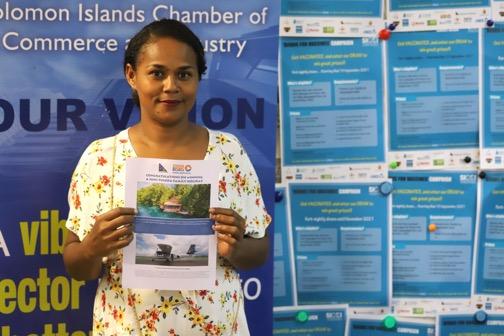 The first of four lucky winners of a free Solomon Airlines 'Iumi Tugeda Holidays' package has been announced under the "Bisnis for Vaccines" campaign. The campaign is being run by the Solomon Islands Chamber of Commerce and Industry (SICCI) and supported by the Australian Government initiative, Strongim Bisnis.
There are four domestic Iumi Tugeda Holidays to win, flying on Solomon Airlines. Any Solomon Islander or Solomon Islands permanent resident may enter the draw, if they get their first COVID-19 vaccination during, or after September 2021.
Each holiday package allows the winner and the winner's family (limited two adults and two children) to fly to a domestic destination that they choose (subject to availability), valued up to SBD12,000. They also receive spending money of SBD1,000 for the holiday.
The winner of the first Iumi Tugeda Holidays package is Ms Lodu Lilo. In collecting her prize, Ms Lilo said, "I encourage my fellow Solomon Islanders not to be afraid and go get vaccinated. Vaccination is the only way we can keep our communities and country safe if we have community transmission, as such, it is important that we have our vaccines."
Ms Lido added, "I would like to take this opportunity to say thank you to the Chamber of Commerce, its partners and businesses who have supported this 'Bisnis For Vaccines' campaign which supports our country's vaccination drive. I also wish to acknowledge Strongim Bisnis and Solomon Airlines for sponsoring the main prize of fortnightly draws which I won last week."
There are three remaining holidays to win. The next winner will be drawn on 15 October 2021. To enter the draw Solomon Islanders and permanent residents must get their first vaccination between September and the time they enter the SICCI draw (those who are receiving their second vaccination in this period are not eligible). Winners must show their proof of vaccination to SICCI upon winning.
Solomon Airlines Manager Commercial, Colin Sigimanu added "We are proud to work alongside Strongim Bisnis, SICCI and our business community to facilitate this prize. Our country's vaccination program is critical to the re-opening of our borders, to restore our national economy, and reactivate international trade and tourism".
Strongim Bisnis focuses on the cocoa, coconut, tourism, financial services, timber, horticulture and waste management sectors and supports better economic opportunities for women, youth and people living with disabilities. The Program is pleased to be a supporting member of SICCI's Bisnis for Vaccines campaign.
ENDS//
What you think?