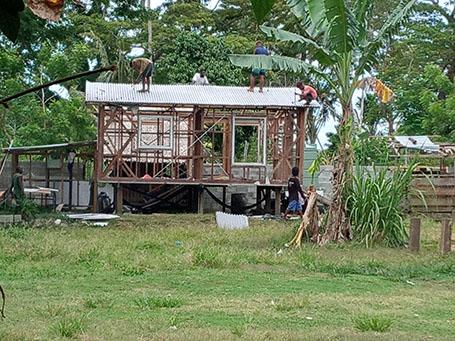 Family watches helplessly as home brought down
Members of a family watched helplessly as their house was brought down by security guards bit by bit this afternoon at Henderson area (opposite the police station). They also watched helplessly as a bulldozer swept their fruit-trees and garden.
SBMOnline was on site to observe security workers of Low Price, which now owns the place, removed timbers, iron roofs and a bulldozer uprooting plants under the guidance of RSIPF officers.
"We are just here to implement a court order," said one of the security guards on behalf of Low Price.
Seventeen families will be affected as they were told to leave or their houses will be brought down by the new owners.
One of the residents says they were never been properly informed of the exercise and they will be homeless once their homes are brought one.
"I have been here since 2015 and here I am standing here and soon my house will go as well. I bought the land from the landowners but today we were told to vacate our homes or they will be pulled down," another said.
"We are treated as criminals and foreigners in our own land. This is happening and have no one to turn to," he added.
"We spent huge money to buy the land, built houses on them and now we are told to leave. I don't know where to go," said one of the victims.
According to the security guard, the security and police were acting on the advice of the high court.
Documents obtained by SBMOnline shows that the high court had given default judgment in favour of Paul Kwan of Low Price in 2019.
High Court Judge Justice Emmanuel Kouhota awarded the judgment after the defendants who now reside at the area were unable to file response or defence within the time required.
Based on that—and on the default judgment on 5th July 2019, Kwan has sought the High Court for an eviction order. The Enforcement Order was issued by the High Court on 14 August commanding the Sherriff to execute the order and all occupants to vacate the land.
The security guard said they were only carrying out their duties.
One of the persons whose house is amongst those set to be removed said they would keep fighting and now they will see their lawyer to challenge the ruling.
RSIPF Commissioner Mostyn Mangau told the media earlier that RSIPF there were only to give support to those who carry out the eviction order of the Sherriff of the High Court.
What you think?