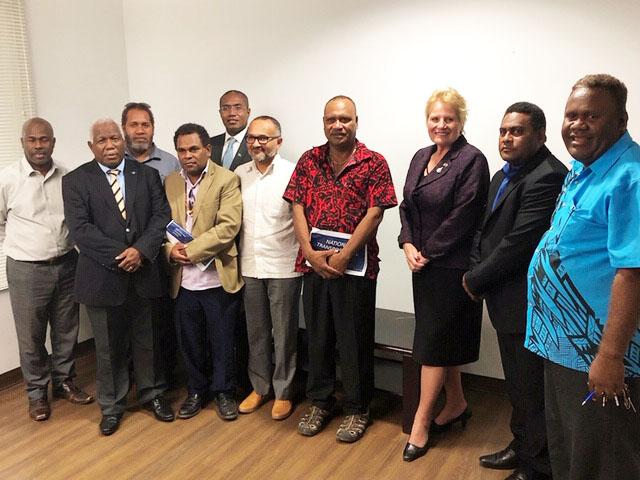 The Hon. Member for East Are Are and Chairman of the Parliament's Foreign Relations Committee has joined the Government, the Leader of Opposition and the Premier of Malaita Province in welcoming the USAID pledge to Solomon Islands focusing on Malaita as was recently announced by US Secretary of State, Secretary Mike Pompeo.
'Last September I clearly recalled a meeting between a number of Malaitan MPs, the Premier of Malaita Province with the then US Ambassador to Solomon Islands, H.E Catherine Ebert-Gray, at the Paul Tovua Complex at the National Parliament. It was a very positive meeting. We heard that US was looking to step up its commitment to Solomon Islands and looking to focus on Malaita'.
'I see this assistance to Malaita Province as a direct consequence of the fruitful discussions we, Malaitan MPs, had with our traditional partner and friend, USA. They have lived up to their word'.
Hon. Kenilorea added that, 'as a Malaita MP, I thank the people and government of the USA on behalf of my people of East Are Are'.
He stated that, 'this generous support from a traditional friend and ally will go a long way towards setting Malaita Province on the path to economic empowerment'.
Hon. Kenilorea explained that the increased engagement by the US in Solomon Islands was in line with their publicly stated intention, including their announcement, again by the US Secretary of State, on the occasion of last year's PIF Leaders 50th Anniversary meeting.
The US has been very clear about their deeper engagement with the Pacific in line with the free and open Indo Pacific Strategy, a Strategy shared by the other pacific traditional development partners of Solomon Islands.
'In fact at the PALM 8 meeting in Japan in 2018 between then Japanese PM and Pacific Leaders, including our then PM, underscored the importance of a free, open, and sustainable maritime order based on the rule of law in the Pacific' Hon. Kenilorea stated.
Hon. Kenilorea also stated that as a democratic country, the USAID package for the Pacific Islands went through budgetary parliamentary processes in the US Congress. The assistance has been earmarked for a specific focus on Malaita Province.
He added that the priorities outlined in the package for Malaita included the same priority areas that SI governments, past and present, which include, agriculture, livelihood, entrepreneurship and infrastructure. Other support for this year's USAID package were also earmarked for a number of other pacific island countries, pacific inter-governmental organizations, and even an SOE in one of the pacific islands.
'Given that the US Congress has already approved this assistance through their budgetary processes, the implementation of this assistance is already well underway. The modalities for the implementation of USAID worldwide are well known. Implementation are usually done through a number of executing agencies that are appointed by USAID'.
This is not the first time for USAID to be involved in supporting development work in Solomon Islands, Hon. Kenilorea stated. 'USAID has been implementing programmes and projects in Solomon Islands over the years. But this may we'll be the first time it will be implementing such a sizable programme with a focus on a Province. And I am sure, with continued dialogue between Solomon Islands and US, this support can only increase going forward and expand nationwide'.
He clarified that the US also has other agencies and entities through which support to their development partners, like Solomon Islands, are extended. These also include the Millennium Challenge Corporation (MCC).
Hon. Kenilorea is however concerned that the Solomon Islands Government seems to confused by this assistance from a traditional partner.
'I have read press releases by the government communication unit and journalists that seem to wrap this assistance with suspicion, laced with an ungrateful tone. Instead of gratitude, the gist of the communication from SIG to our friend and ally, US, seem to be more about questioning the aid and raising suspicions. If so, I would caution the government against this approach which seem to show a lack of understanding of these types of assistance. The proper protocol in these cases is for the Minister of Foreign Affairs and External Trade to thank his counter Secretary of State for the generous assistance. I trust and hope that this has been done'.
Hon. Kenilorea advises the government to be balanced and fair in their approach on how we treat our development partners, many of whom are traditional allies.
'We have to be balanced in how we treat our development partners who are looking to support us with their taxpayer's money. Until the day we can stand on our own two feet, we will need all our partners to work with us for the betterment of our nation and peoples. There is a lot of space for all our partners to make a contribution and increase cooperation with us'.
Ends
EAC MP PKJ's Press Release
What you think?