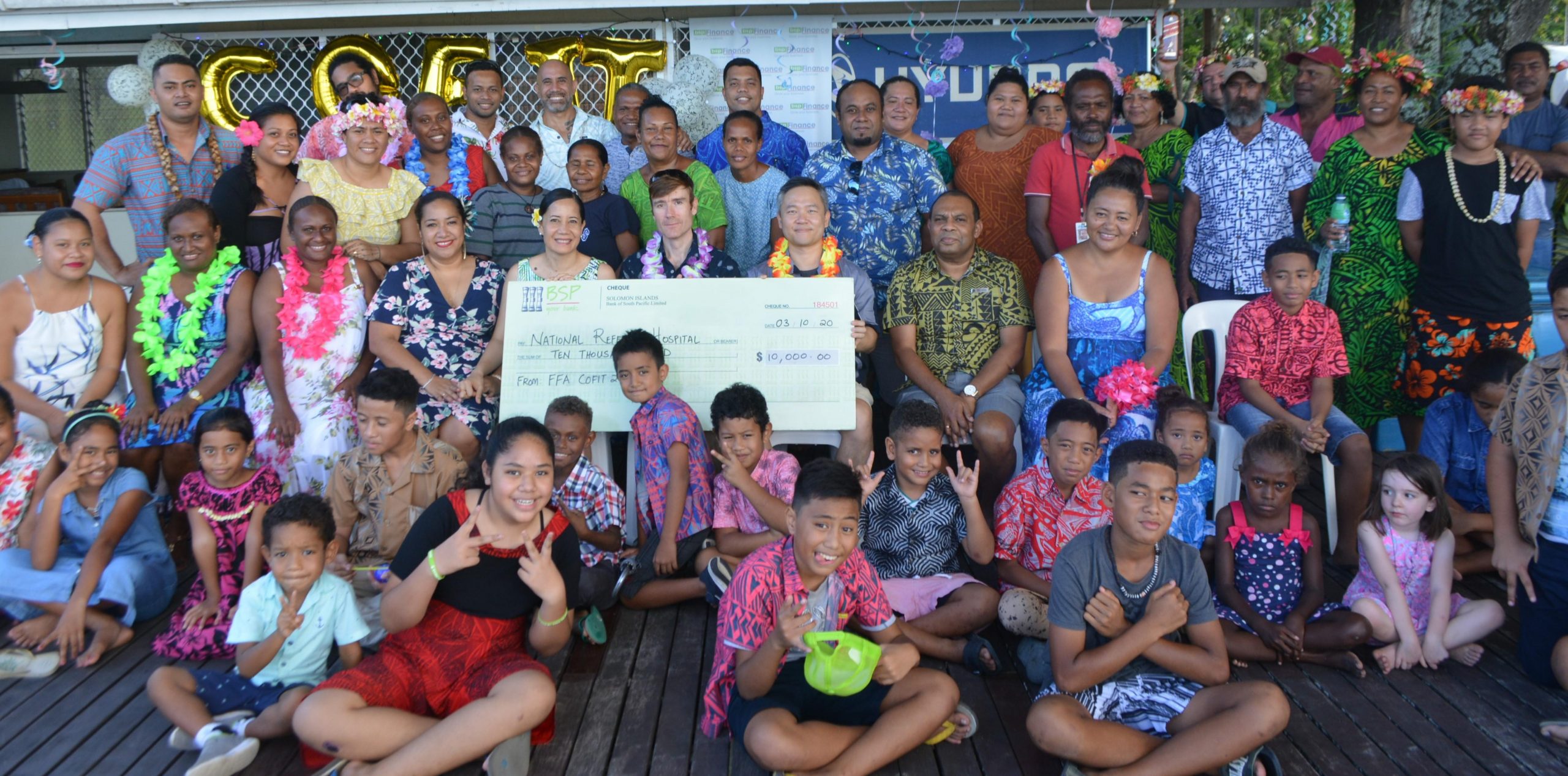 THE COFIT20 team at the Pacific Islands Forum Fisheries Agency (FFA) made a charity donation of SBD$10,000 to the National Referral Hospital (NRH) following an intense eight (8) weeks of "Health Attack" fitness challenge.
On Saturday 3rd October 2020, the COFIT20 team which consists of FFA staff and family members hosted a prize giving ceremony for the 'Health Attack' Challenge at the FFA headquarters in Honiara. One of the initiatives behind the challenge was to help those that are in need of assistance and to contribute to the wellbeing of Solomon Islands.
The event was attended by FFA Staff and family members of the COFIT, British High Commissioner to SI & Nauru, Dr Brian Jones, New Zealand's Deputy Commissioner to SI, Ms Hannah Van Voorthuysen, the FFA Director General, Dr Manumatavai Tupou-Roosen, Mr James Kim of Kosol Hyundai, and some other sponsors of the event.
Speaking at the ceremony, COFIT20 Event Coordinator Jolynn Fepuleai said "the Charity donation to the Solomon Islands' biggest Hospital fulfils one of three objectives of the COFIT20 which is to raise funds for a worthy cause." The other objectives are to promote fitness and healthy living for FFA Staff and families by creating a work/life balance as well as to promote social fun activities for members."
"We hope to have many charity events similar to this in the near future with the hope of providing more assistance to those who need it the most, especially with the current pandemic the Solomon Islands frontliners would need as much assistance as possible."
For the Charity fundraiser through the 'Health Attack' Challenge, the COFIT20 Committee would also like to acknowledge the Gold Sponsors: Kosol Hyundai, Mako Fisheries, and BSP Silver Sponsors: Solfit/Islands Own, Matautia Family, Amataga Family, Meatlovers, Teo Family, Liua Bottling Co, King of Meatz, Mr. Aparosa Draunibaka, Hatanga Ltd, BJS Agencies Ltd and QQQ Shop.
"We would like to acknowledge our sponsors both for the prizes and the event for without whom this event would not be possible. Your contribution has been invaluable and sincerely appreciated. We could not thank you enough," Mrs Fepuleai added.
The Cheque donation was handed over to the National Referral Hospital (NRH) Medical Superintendent and Acting Chief Executive Officer Dr John Hue on Tuesday 6th October 2020. –ENDS//
Picture Captions
What you think?