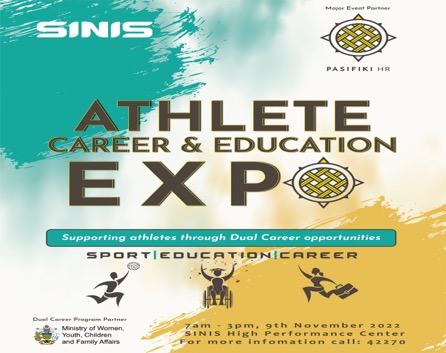 Honiara,  7thNovember 2022 – The Solomon Islands National Institute of Sport (SINIS) continues to invite interested institutions, organizations, and businesses to be part of the first-ever Pasifiki Athlete Career & Education Expo to be held on Wednesday 9th November 2022 from 7:30 am to 3:30 pm at the SINIS High-Performance center.
This is in partnership with the Pasifiki HR and the Ministry of Women, Youth, and Children Affairs (MWYCA).
The ACE expo is designed to equip athletes with the knowledge, skills, and strategies needed to successfully prepare for and manage their dual careers along with how to transition into life after sport. 
This event is a national event where we have more than 200 athletes from all our provinces and sporting federations. Your participation in this event will be a unique opportunity to identified suitable candidates who are ready to study and work.
The aim of the Wellbeing and Lifestyle Performance department at SINIS to ensure athletes thrive in both life and sport, hence this event is part of the framework under the domain of Dual Careers, and the event is planned to be held annually.
"This ACE Expo is to expose our athletes to various education providers and potential career opportunities with various organizations," a statement from the SINIS Wellbeing & Lifestyle team stated.
"The day will also feature a special panel of professionals from the sport, education, and business industry to share the value of pursuing a dual career. Business stalls will display a range of career-related opportunities such as volunteering, work experience, and internship positions, along with vacancies. Education stalls will share information on courses available along with different scholarships on offer to pursue further study domestically and internationally. 
Pasifiki HR is the event's major partner supporting the staging of the inaugural event. MWYCA is the expo's dual career partner that will help support SINIS to achieve employment and education outcomes as part of the broader Wellbeing Program which will include a series of ongoing workshops on education and career opportunities.
To find out how to register a stall at the Expo, please email Atueta, Sports Education Manager on 𝑨𝑩𝒂𝒍𝒆𝒌𝒂𝒏𝒂@𝒔𝒊𝒏𝒊𝒔. 𝒄𝒐𝒎. 𝒔𝒃 for the information sheet and registration forms.
Athletes wishing to attend can RSVP to Joyce, Wellbeing and Lifestyle Performance coach on 𝑱𝑨𝒃𝒖𝒓𝒊𝒊@𝒔𝒊𝒏𝒊𝒔. 𝒄𝒐𝒎.𝒔𝒃.
The ACE Expo is free for athletes and coaches to attend. Athletes are welcome to bring along a friend or family member and are also encouraged to bring their CVs for employment consideration. 
–SINIS Media
What you think?