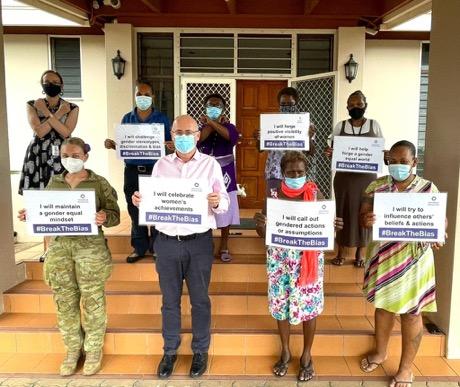 Celebrating the achievements of women and marking the struggles they have fought to forge a path for gender equality should not just be confined to one day each year.
To challenge the obstacles that perpetrate inequality against women requires honesty, courage, collective effort and tireless commitment. The 2022 International Women's Day campaign theme of #BreakTheBias encourages everyone to reflect on their own biases. Whether deliberate or unconscious, gender bias affects multiple aspects of women's lives and impedes their ability to fully contribute to all areas of society.
For International Women's Day in 2022, over the course of this week, the Australian High Commissioner, Dr Lachlan Strahan, hosted a series of COVID-19 safe morning teas to celebrate women in traditionally male-dominated sectors – peace and security, business, and journalism. It was an opportunity to hear from woman who are challenging stereotypes and breaking through biases daily despite the many barriers they face.
Over the three events, Dr Strahan heard from women who are leaders in their professions, pursuing their passions, empowering themselves and those around them, and driving social change.
Christina Lasaqa, Chief Executive Officer of Our Telekom, Ethel Wasuka, CEO of Solomon Island Women in Business Association and Australian Defence Force Captain, Tahnee Farleigh-Hall all articulated stories of resilience, determination and perseverance in breaking down gender stereotypes in male-dominated sectors in Solomon Islands and Australia.
The President of the Media Association of Solomon Islands, Georgina Kekea, and award-winning Australian journalist Mary-Louise O'Callaghan provided insights into their careers in the media. They identified some of the obstacles women face while trying to juggle competing priorities and highlighted the importance of women's voices in finding solutions to the plethora of challenges facing society.
Highlighting the importance of inclusion of both men and women in the conversation to  #BreaktheBias, Australian High Commissioner, Dr Lachlan said "It is not enough to understand that bias is bad. Each of us has a responsibility to break the bias by challenging and correcting bias/discriminatory practices; supporting women to help them achieve their ambitions; and by celebrating women's achievements to inspire others."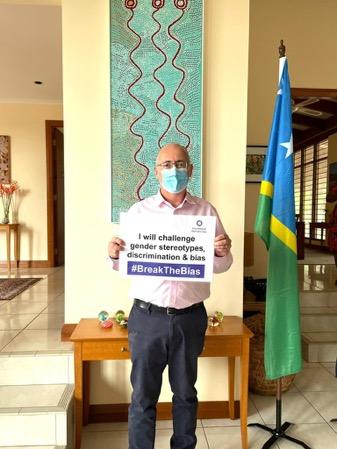 "As I have done in the past, I call on all men and boys to treat the women and girls around them with genuine respect and equality. Much of the biases which hold back women and girls reside in the heads of men and boys. It's incumbent on all of us male members of the human race to think hard about our own behaviours and attitudes, boosting, not holding back, equality and justice for all," said Dr Strahan.
Australia will continue to celebrate women in Solomon Islands, in our region and beyond who are making our world more inclusive and more equal – not just on International Women's Day but every day.
ENDS//
What you think?