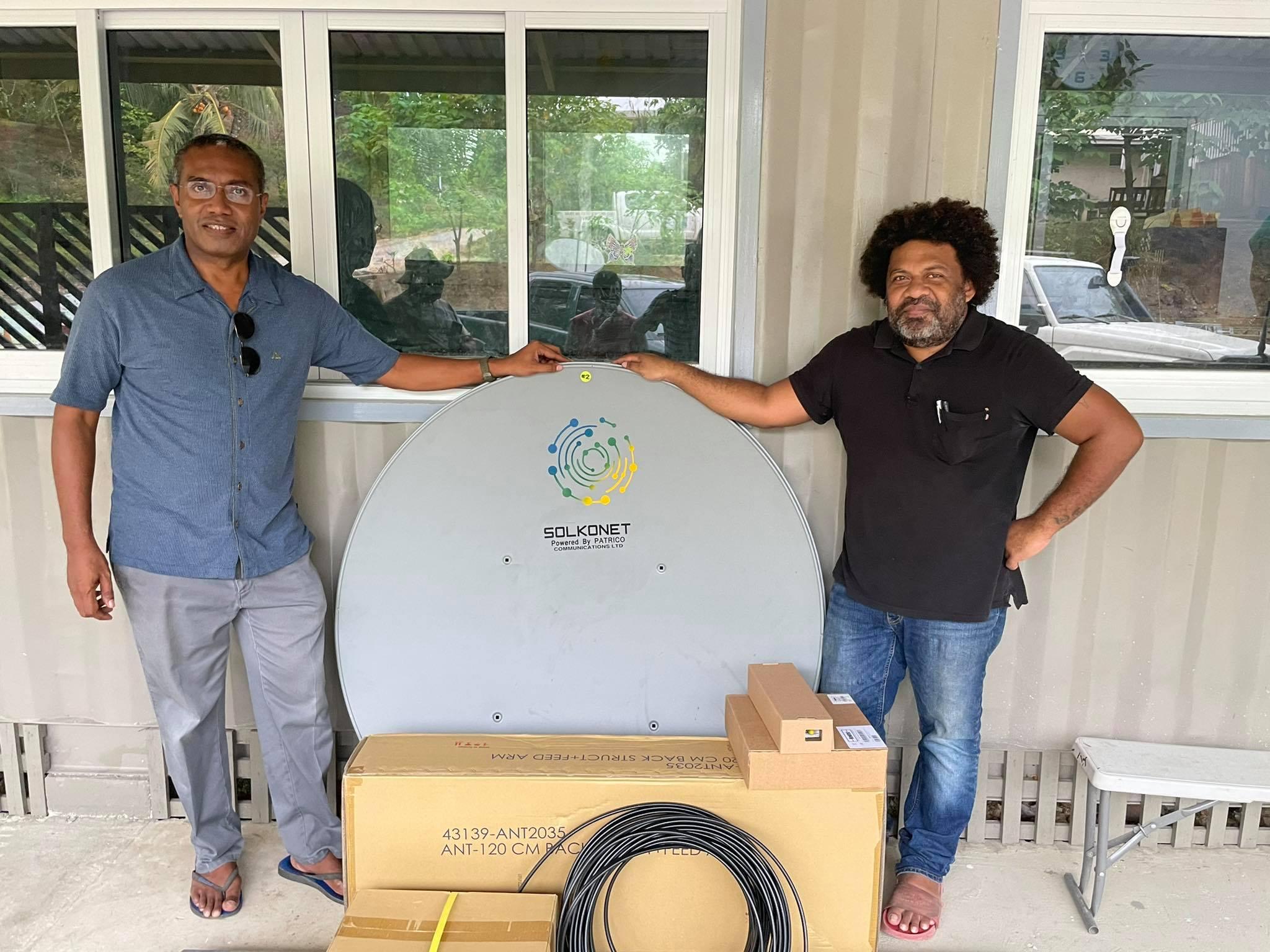 All six secondary schools in the East Are'are Constituency and its only rural training centre will later this month connect directly to the internet following the acquiring of seven satellite dishes and their support utilities to enhance the learning of the Malaitan students.
The MP for East Are'are Hon Peter Kenilorea Jr this afternoon delivered around $110,000 to Dr. Patrick Toito'ona of Patrico Communications Ltd trading as Solkonet to facilitate his company to mount the seven dishes and connect the schools in East Are'are to the rest of the world to super fast internet.
This project makes East Are'are the first constituency outside of Honiara to have all its schools hooked to the web.
Kenilorea said he's a strong believer in communication and connecting all his schools to the web will surely a game changer.
He said the establishment of the dishes is the first stage of the project role out and soon tablets will be delivered to all the schools.
Kenilorea adds that the tablets will be funded by donors, wifi'i so as solar to power the dishes.
The MP said he's opting for tablets because they are easy to charge and its battery life lasts longer than laptops. In the meantime, all East Are'are schools should be connected to fast internet by late next week.
"It will be a game changer and children will be quick to learn and catch up in their learning," he said.
He said the availability of the communication at the village has created a level playing field for every one.
Kenilorea said though it has disadvantages the advantages outweigh the downside and surely with teachers' support it would be very helpful with the children's learning.
He also reveals that one of his priority areas now is to establish school to school connections or create sister relationships.
Kenilorea said already plans are underway to link East Are'are schools with schools in Australia and New Zealand.
He said through this it will provide additional knowledge and of course a window for cultural exchange between the schools.
Kenilorea also states that his schools will also be linking with a university in the U.S to help them in their learning.
Dr Toito'ona said his team will leave on Monday to the constituency to mount the dishes and once that is done the schools will access internet for the first time.
The six schools and one rural training centre in East Are'are that will get access to internet under the project include: Hunanawa CHS, Hautahe CHS, Masupa CHS, Tawatana TRC all from Ward 20 and the three schools from Ward 19 are: Maroupaina CHS, Manawai CHS and Olomburi CHS.
What you think?