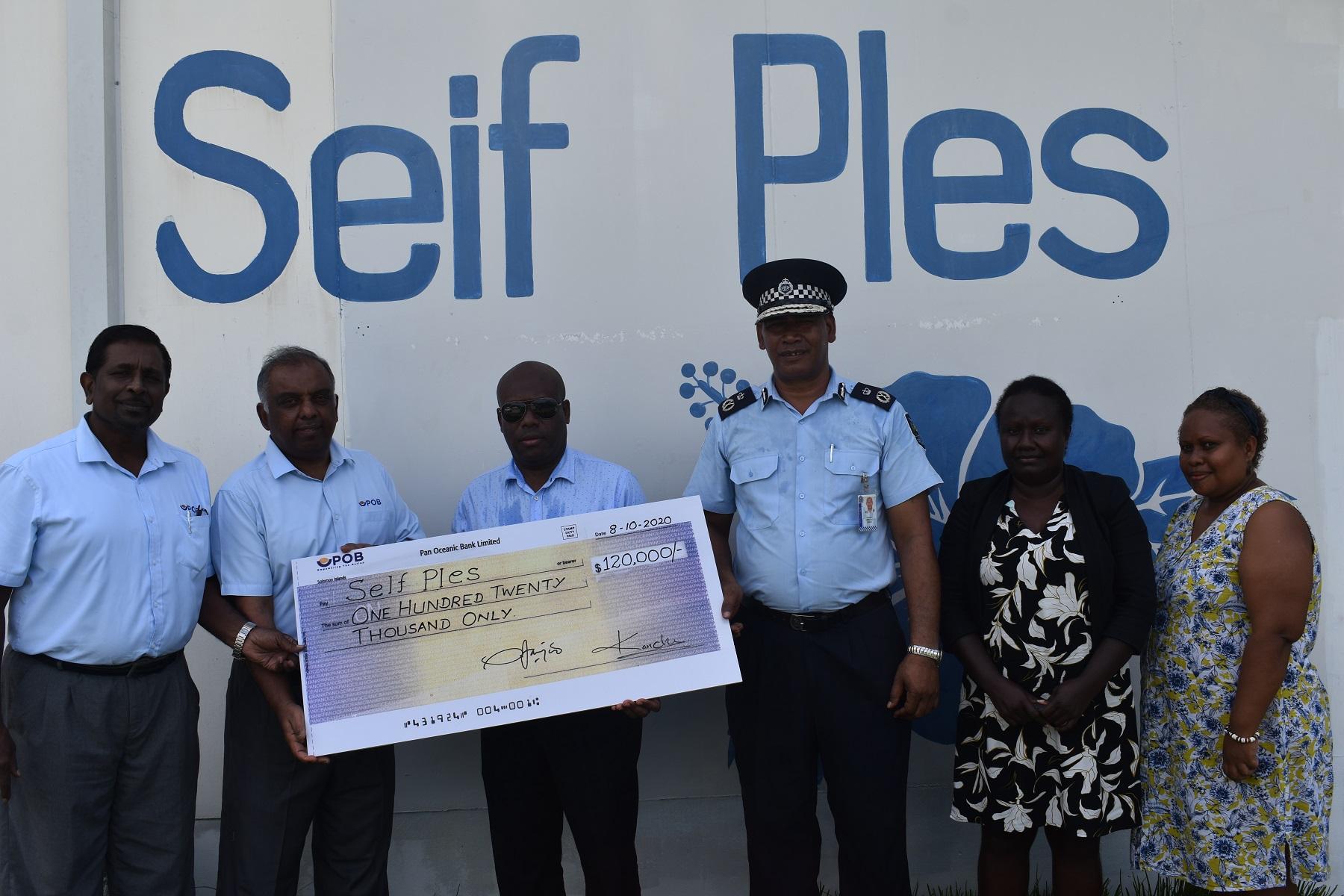 Minister of Police, National Security National Security and Correctional Services Anthony Veke has revealed that there was a spike in the number of callers through the Seif Ples hotline in April and May from victims of rape and sexual abuses.
Speaking today in Honiara when receiving a $120,000 donation on behalf of Seif Ples from Pan Oceanic Bank, Veke said there is an alarming rise in the percentage of both rape and sexual abuse cases in children under the age of 15 years adding there was also a spike in number of callers calling through the hotline, especially in the month of April and May 2020.
POB's Chief Executive Officer Upul Hettiarachi was at the Seif Ples Centre at the Rove Police Headquarters in Honiara to deliver the cheque.
Veke said: "There has been a huge increase in the number of survivors of domestic violence, rape and sexual abuse accessing services at the Seif Ples Centre this year."
According to Seif Ples, since 2014 the number of women, girls and children coming through the Centre has shown a drastic increase in physical and sexual violence – 46 percent for physical violence and 25 percent of total number of clients for sexual violence. More than half of that 25 percent are children under the age of 15 years.
A press release from the RSIPF Media Unit states that the Seif Ples Centre in Honiara has recorded an alarming increase in the number of survivors of domestic violence, rape and sexual abuse since 2014.
"With the current situation our country is facing, we need to take heed of the effects in which COVID 19 will have on domestic violence and sexual abuse in our homes and communities," said Hon. Veke
He added, "We want to sincerely thank organisations like POB who have seen it fit to donate to this very worthy course of assisting survivors of domestic and sexual abuse within our communities. Let us work together to support the vulnerable members of our communities."
Under the current COVID-19 pandemic, Seif Ples continues to provide its usual services like medical, shelter, hotline and referral services, but in accordance to its Preparedness and Response Plans. The Plans are subjected to change based on the COVID 19 situation as well.
Seif Ples has been receiving various kinds of support from other business houses and donors over the years to support victims and survivors of violence, rape and abuses.
If you are experiencing any type of violence or know of someone who may be experiencing domestic violence, rape or sexual abuse please call the Police on 999 or Seif Ples on 132.
What you think?