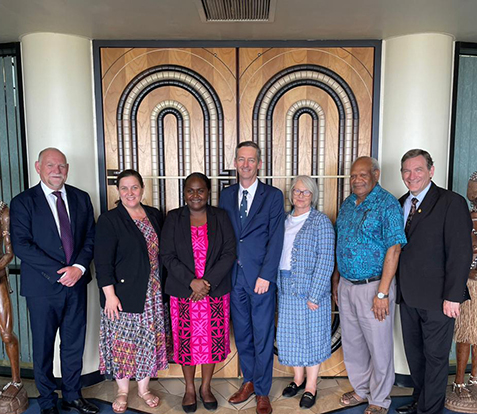 ---
Our parliaments are stronger together
The relationship between the National Parliament of Solomon Islands and New South Wales (NSW) State Parliament has been strengthened by a visit of 5 members of the NSW Parliament.
The NSW State Parliament delegation, led by the Hon Matthew Mason-Cox, President of the Legislative Council, spent a week in Honiara under the Solomon Islands-NSW Parliament Twinning program.
During the visit, the delegation paid a courtesy call on Prime Minister Manasseh Sogavare, discussed common challenges with Solomon Island Ministers, and met with the Leader of the Opposition Matthew Wale.  The delegation also discussed the work of Parliamentary Committees with relevant chairs, and leaders of accountability institutions such as the Auditor General and the Leadership Code Commission.
The Hon Mason-Cox said, 'The Solomon Islands and the NSW Parliament have had a twinning relationship since 2007. I am honoured to lead this first parliamentary delegation to Solomon Islands since 2018.'
'Australia and the Solomon Islands are friends and family, committed to working together to solve common challenges. The twinning relationship between our two parliaments reflects our countries' common commitment to democracy and the rule of law', said the Hon Mason-Cox.
The Hon Patterson Oti, Speaker of the National Parliament of Solomon Islands, said, 'Twinning is about cooperation and support between parliaments at all levels (members and staff). For small Parliaments like the Solomons, the twinning relationship provides a space for exchanges of best practices and experiences'.
Australia's High Commissioner to Solomon Islands, Dr Lachlan Strahan said, 'Parliament is the keystone of democracy, and parliamentary twinning is but one of the many great people-to-people links that bind Australia and Solomon Islands together as family and friends.  I look forward to further visits by the New South Wales State Parliament to Solomon Islands, continuing to build our democratic partnership'.
The Solomon Islands National Parliament and New South Wales Parliament are twin parliaments through the Commonwealth Parliamentary Association.  This program provides the opportunity to enhance relations, exchange information and learn from each other.
The delegation from NSW comprised:
The Hon. Matthew Mason-Cox MLC, President of the Legislative Council
The Hon. Rod Roberts, Member of the Legislative Council and Assistant President
The Hon. Aileen MacDonald OAM, Member of the Legislative Council
Ms Melanie Gibbons, Member of the Legislative Assembly; and
Mr Stephen Bali, Member of the Legislative Assembly.
What you think?