New Zealand Government supports Honiara City Council with upgraded new facilities for young people
 Aotearoa New Zealand, in partnership with the Honiara City Council (HCC), has completed upgrades to Honiara's Multi-Purpose Hall and its surrounding facilities to the value of NZ$11.5 million (SBD$59.6 million), in order to provide improved access to sports, cultural, and support services to young people in Honiara. Honiara has a very high population of young people, and supporting their active involvement within their communities and wider society is important for the future of Solomon Islands.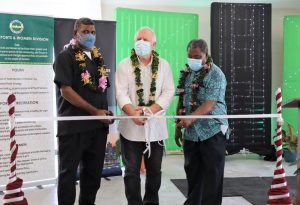 (L-R) Honiara City Council Lord Mayor, Hon. Eddie Siapu, Acting NZ High Commissioner Don Higgins, and the Minister for Home Affairs, Hon. Chris Laore cutting the ribbon to officially open the upgraded Multi-Purpose Hall and its surrounding facilities.
During the official handover ceremony, Acting New Zealand High Commissioner, H.E. Don Higgins said that Aotearoa New Zealand recognises the importance of young people as the future leaders and change-makers of Solomon Islands.
"I am delighted to be able to support Honiara City Council through these upgrades to the Multi-Purpose Hall facilities. Aotearoa New Zealand is committed to supporting young people in Solomon Islands to harness their full potential and access opportunities for growth."
The Acting High Commissioner also announced that Aotearoa New Zealand's partnership includes a 5 year co-funding commitment with HCC to ensure that these facilities are managed and maintained sustainably.
Minister for Home Affairs, Hon. Chris Laore, and the Honiara City Council Lord Mayor, Hon. Eddie Siapu, spoke during the ceremony and expressed their sincere gratitude to Aotearoa New Zealand and its people for the support. They emphasised the importance of looking after the new facilities, which will also be used as a sports training facility in preparation for the 2023 Pacific Games.
The upgrades include a new Youth Hub building, an outdoor performance stage, refurbished outdoor netball and basketball courts, and a new multi-sports courts for futsal, tennis and volleyball. It also includes the extension to the existing hall, which contains a gym and exercise room, changing rooms and showers, offices and conference rooms, and a new reception and cafeteria.
A unique part of this partnership between Aotearoa New Zealand and Honiara Council was the involvement of young people from conception through to completion. Young people were consulted throughout the project design, were provided employment opportunities during the construction, and are core members of the governance committee.
Previous funding from Aotearoa New Zealand also supported upgrades to the Honiara City Council Women's Training Centre, installation of the Tamariki Playground, and the construction of accessible toilets for people with disabilities on the Multi-Purpose Hall site.
What you think?