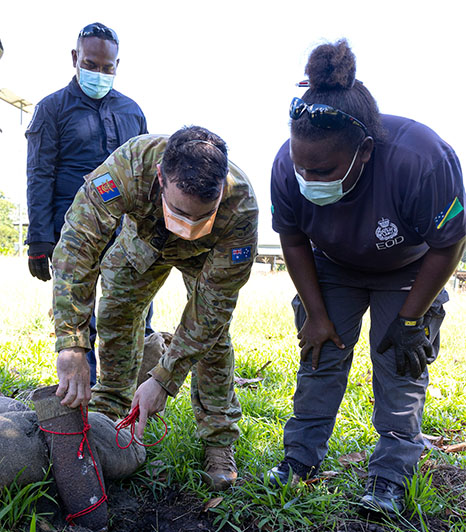 The ability of the Royal Solomon Islands Police Force (RSIPF) to safely dispose of unexploded ordnance has been enhanced with 12 officers receiving training from Australia to United Nations standards.
RSIPF and Australian Defence Force (ADF) personnel celebrated the graduation of these 12 RSIPF Explosive Ordnance Disposal (EOD) officers at a ceremony at Hells Point on 29 June.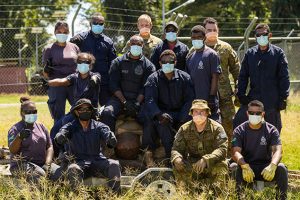 Since May, a six-person ADF EOD training team has been in Honiara to deliver Level Two United Nations' International Mine Action Standard (IMAS) training to RSIPF EOD officers. The training team was in Solomon Islands under the banner of Operation RENDER SAFE, which is the ADF's contribution to safely disposing of WWII explosive remnants of war in the South Pacific.
Officers were trained to be team leaders, determine when it's safe to move and transport munitions, and how to dispose of multiple ordnance items simultaneously.
ADF EOD training team leader Warrant Officer Brian Rock said "This course requires hard work and commitment and the students graduating today should be proud of their achievements."
"The legacy of unexploded ordnance in Solomon Islands is an enduring challenge and this training will further enhance the RSIPF's EOD response capability and will go a long way to ensure the safety of Solomon Islands' people," said Warrant Officer Rock.
RSIPF EOD Officer-in-Charge Inspector Clifford Tunuki said, "This training is very important to us as we continue to build our capacity to respond to unexploded ordnance incidents across Solomon Islands."
"Australia has been very responsive to our training needs, and we look forward to their ongoing engagement with the RSIPF EOD section', said Inspector Tunuki.
An ADF EOD training team will return to Solomon Islands in 2023 to deliver Level Three United Nations' IMAS training. In 2021 Australia and Solomon Islands jointly announced an enhanced EOD cooperation package including ongoing IMAS training and infrastructure upgrades at Hells Point.
EOD cooperation is a key pillar of Australia's engagement with the RSIPF. It focusses on building the RSIPF's own EOD capability and supporting Solomon Islands' status as a regional EOD leader. The ADF contributes a full-time EOD advisor to the RSIPF.
What you think?