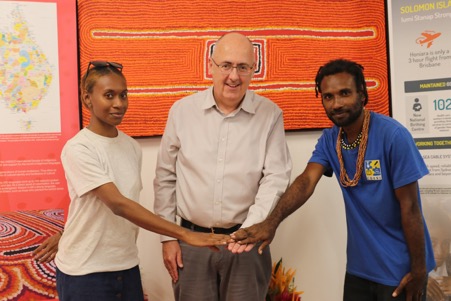 The Australian High Commission in Honiara is pleased to announce the winners of the Wantok Musik Singing Competition 2022.
Congratulation to two talented young Solomon Islanders Ms Elizabeth Takamama Fangata and Mr John Houkarawa who have been judged by an expert panel as the best female and male vocalists to enter the competition.
Speaking of the importance of the competition, Australia's High Commissioner to Solomon Islands Dr Lachlan Strahan said, "Music is a powerful way of sharing our cultures, our passions and our spirit. After a difficult year, including facing Solomon Islands' first COVID-19 outbreaks, it's more important than ever that we celebrate the good in our lives and find opportunities to come together as a community and a Pacific family."
The competition ran from 21 November to 9 December 2022. We encouraged participants to include an element of Solothe Teomon Islands culture in their audition or to perform an original or cover song using traditional instruments or language.
Ms Fangata and Mr Houkarawa will now be mentored by Australian music label Wantok Musik over two days and perform at a public concert in Honiara alongside Australian music label Wantok Musik and internationally recognised Solomon Island and Indigenous Australian artists Charles Maimorosia, David Bridie, Tjupurru, Kaumaakonga, Natty D and Lorraine Henderson.
Dr Strahan said, "We are overwhelmed by the enthusiastic participation and talent in music displayed through the auditions. We hope this experience helps these young people to stay motivated and we encourage them to continue their artistic endeavours through music as they grow their talent into the future."
Speaking of the opportunity, Ms Fangata said "I love music. It is something that can help on days when I'm feeling down. Music is a part of me – I wouldn't survive without it. To me, singing in this competition is an opportunity to prove to the youth that you can be successful if you work hard and put your effort into it. Thank you for the opportunity to prove we can be successful through our art."
Mr Houkawara said "As an artist, I really enjoy music, and want to be part of the music. So I'm very excited to be part of this Festival. I want to showcase my talents as a musician. I focus on traditional and contemporary music, and upgrading my own traditional music. Thank you Australia for this opportunity to expose my music."
A FREE public concert on Saturday 21 January 2023 will be a family friendly extravaganza of music and talent. Gates open at 5.30pm at Pacific Crown Hotel, closing 8pm. The Wantok Music Festival will also include two capacity building workshops for aspiring musicians, one in Gizo and a second in Honiara.
The Australian High Commission acknowledges everyone who took the time to enter the competition and we are overwhelmed by the level of talent displayed by these young Solomon Islanders. The Wantok Music Festival is being funded by the Australian Government and several generous sponsors. We would like to sincerely thank ours sponsors – ANZ, Hatanga and BYGroup.
What you think?