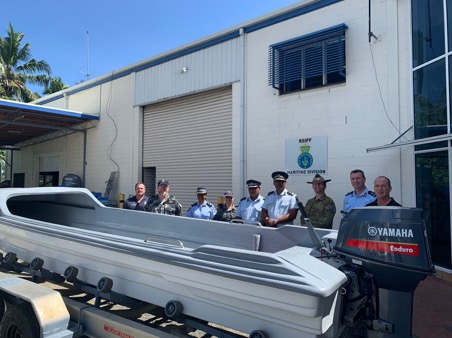 This December, at Aola Base in Honiara, Australia's Defence Adviser Lieutenant Colonel Justin Bywater handed over 10 new rayboats and 10 60 horsepower outboard motors to Royal Solomon Islands Police Force (RSIPF) Commissioner Mostyn Mangau. This is part of Australia's ongoing commitment to the RSIPF through the Defence Cooperation Program.
Lieutenant Colonel Bywater said, "I'm really pleased to be handing over these boats and motors to RSIPF Maritime Division to ensure their officers can safely navigate between islands."
"The boats were made locally by Y.Sato Marine and are known as the 'Weather Coast' model because they've been made specifically to suit Solomon Islands' unique conditions, with slightly deeper hulls," Lieutenant Colonel Bywater said.
These boats and motors complement the 50 outboard motors and two aluminium longboats gifted to RSIPF Maritime Division under the Defence Cooperation Program earlier this year.
In addition to the handover, Commissioner Mangau toured the Maritime Division's operations room, which Australia is upgrading under the Defence Cooperation Program.
Commissioner Mangau said "this operations room upgrade is a great addition to the RSIPF's capability and will complement the work AFP is undertaking to upgrade the operations room at Rove headquarters".
"We are pleased to have Australia assist us with this work which ultimately helps us respond faster and more efficiently in times of crisis," Commissioner Mangau said.
2022 has been a big year for the Australia-Solomon Islands Defence Cooperation Program and RSIPF Maritime Division with more than half of Maritime Division personnel receiving training in Australia. Additionally, Australian Defence Force personnel have run multiple small boat handling courses in-country.
Australia is proud to continue its long-standing partnership with RSIPF Maritime Division.
-Press Release
What you think?