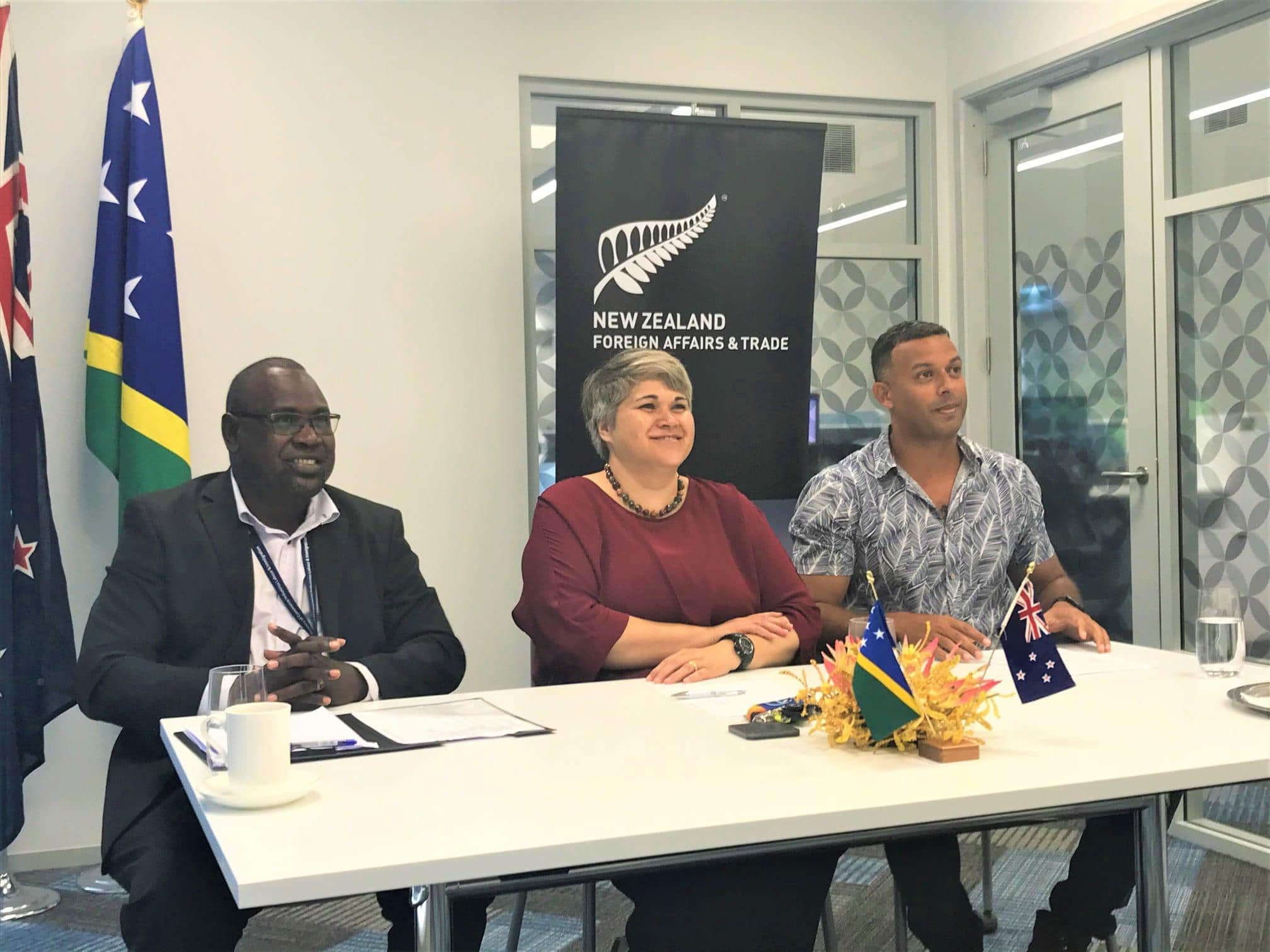 Thursday 4 March, Honiara – With the right policy setting, strategic private sector partnerships and an overarching close working relationship will all stake holders, Solomon Islands can not only recover but we can build back better from the impacts of this global pandemic.
Board Chairman of the Solomon Islands Chamber of Commerce and Industry (SICCI), Mr. Jay Bartlett made this statement at the opening of a Virtual Trade Mission to Solomon Islands organised by the New Zealand Pacific Business Council (NZPBC).
This is part of NZPBC's efforts to maintain existing relationships and continue to build new relationships in order to ensure the ongoing development of bi-lateral trade between New Zealand and all Pacific nations.
Mr. Bartlett said Solomon Islands has been fortunate that a large pipeline of infrastructure is on the horizon starting with the Tina River Hydro, the 2023 Pacific Games to other important social and economic investments.
"The New Zealand Government has also been supporting tourism development though planned upgrades of domestic runways after the international upgrade in Munda.
"Other Multi-lateral agencies such as the Asian Development Bank (ADB), World Bank and development partners such as DFAT, JICA also have large planned investments in infrastructure," Mr. Bartlett noted.
He said by harnessing these investments in infrastructure, SICCI encourages local participation, joint ventures and local job creation.
"We believe that infrastructure will drive the recovery while other strategic sectors such as Agriculture, Fisheries, Tourism and Mining can sustain our economy moving forward and there is scope for partnerships and investment in all these sectors.
"With large unemployment and fast population growth we have an uncompromising position on ensuring local content is a large consideration in delivery and investment across our nation," the SICCI Chair said.
He reiterated the need for a partnership approach to investment.
"We want to see trade and investment inflows but not to the detriment of our local businesses and jobs.
"We believe there is scope for further meaningful engagement and welcome the opportunity to do so and stand a willing partner to support NZ Pacific Business Council as we look forward to 2021 and beyond," Mr. Bartlett said.
The two-day mission, which ended today (Thursday 4th March, 2021), brought together private sector participants from a range of sectors in New Zealand who are looking to develop new business in the Solomon Islands, and equally to Solomon Island businesses who are seeking to forge relationships into New Zealand.
New Zealand High Commissioner to Solomon Islands, Her Excellency, Georgina Roberts took the opportunity to highlight New Zealand's priority focus areas for development programme funding in Solomon Islands which focuses on sustainable economic development, inclusive development, human development and environment/climate change.
"In this virtual mission, we have some businesses already operating, some looking at opportunities and some refreshing. We remain optimistic for opportunities in sectors like infrastructure, ICT and the services sector," the High Commissioner said.
Representing the Solomon Islands Government (SIG), Permanent Secretary of the Ministry of Commerce, Industry, Labour and Immigration (MCILI), Mr. Riley Mesepitu said: "This is an opportunity for New Zealand business leaders to learn more about the Solomon Islands operating environment in order to generate opportunities for both countries."
Mr. Mesepitu said foreign investment is recognized by Government as critical component of a private sector led growth.
The Permanent Secretary also highlighted Government's priority sectors for investment in tourism, manufacturing, energy and mining, agriculture, infrastructure and other services sector.
Mr. Mesepitu acknowledge NZPBC and the New Zealand High Commission in partnership with SICCI for hosting the Virtual Trade Mission.
"I believe this trade mission will create an opportunity to organisations within New Zealand who are looking to develop new business in Solomon Islands, and equally to Solomon Islands businesses who are seeking to forge relationships into New Zealand," he said.
Participants from New Zealand had the opportunity to listen to a range of topics from different speakers including updates on the Solomon Islands economy, conducting business in the Solomon Islands, Understanding the main sectors of the Solomon Islands economy, Understanding local capabilities and some in-depth conversations into particular sectors and issues, and case studies.
-SICCI Media
What you think?