Vehicle crashes, damages iron fenced wall at Point Cruz
A vehicle believed to be running at high-speed damaged a concrete pot in the middle of the island before it veered off the road damaging the security fence in front of Solomon Telekom at Point Cruz.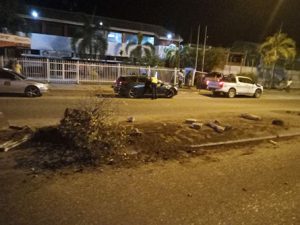 The double cabin high-lux was heading westerly direction when it travelled past the Central Police Station and the Central Bank of Solomon Islands round-about when the accident happened after 1am on Friday.
An eye-witness said the accident looked bad.
The witness who is a security guard in the area told SBMOnline this morning that the vehicle was running at high-speed with five persons on board.
"Luckily the vehicle didn't hit anybody before it stopped by the iron fenced wall," he said.
'I saw the passengers and drivers escaped soon after the accident," the eyewitness said.
The vehicle sustained major damages to its front and causing considerable damage to the fencing.
Injuries as all the passengers and driver abandoned the vehicle after the accident.
Police was also on site this morning to attend to the accident.
News@SBMOnline2022
What you think?