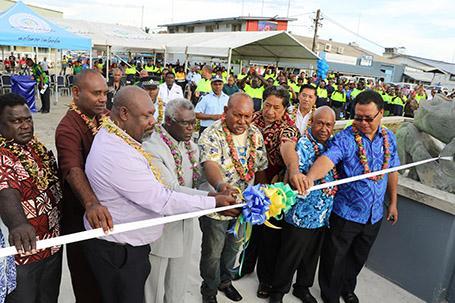 Speech by the Guadalcanal Province Premier, Honourable Francis Mbelande Sade, during the Commissioning of the Unity Square in Honiara, Solomon Islands, on Monday, 6th July 2020.
"Unity under one Banner"
Honourable Prime Minister, Manasseh Sogavare
Honourable Ministers
Honourable Members of Parliament
Honourable Provincial Premiers
Honiara City Mayor
Members of the Diplomatic Corp
Your Lordship, Archbishop Christopher Cardone and other church leaders
The Board, CEO and employees of the Solomon Islands Ports Authority
Invited guests
Ladies and gentlemen
Dou matsaraka vanighamu. Gudfala moning long iufala.
I have been invited to say a few words on behalf of my colleagues, the Provincial Premiers. This is a task that I am privileged, honoured and humbled to perform and I hope that my words bring mana to this occasion to mark the Commissioning of the Unity Square. I also hope my words will honourably represent my colleague Premiers and the provinces and peoples that we serve.
The theme for this gathering is "Unity Under One Banner." It is fitting that this event occurs on the eve of our country's forty-second (42nd) Independence Anniversary. It gives us the opportunity to reflect on our country's journeys, challenges and achievements in the past forty-two years and chart futures that will be hopeful and marked by unity.
The centrepiece of this Unity Square is the tall flagpole adorned with a large Solomon Islands flag. I was told that this is the tallest flagpole and the largest national flag in our country and that it is strategically located so that when we travel in and out of Honiara by boat, we will see it. This will remind us of our national identity – our belongingness to Solomon Islands and our "unity under one banner".
This morning, I want to briefly dwell on two things.
The first is the idea of national unity, especially in the context of Solomon Islands. As we know, our country is culturally, linguistically, and ethnically diverse. This diversity has often been portrayed as a challenge to building national consciousness in our country. Our many languages and cultures have often been portrayed as a liability to national unity because it is often seen as privileging provincial and island identities and hence engender divisions, weaken state institutions, has contributed to conflicts and hinders socio-economic development. It is therefore argued that we do not have a sense of nationalism and that in order to build and strengthen national consciousness, we must abandon and erase our diverse cultures and languages.
I want to challenge that narrative and argue that our cultural and ethno-linguistic diversities are not liabilities or hindrances to our nationalism. Rather, they enrich and bless our country and are the foundation and essence of our unity. Our diversities should be harnessed, celebrated and taught in our school systems and to each other. Our unity should be woven with the colourful fronds of our diversity. Our diversity should be our pillar of strength and resilience in a world that pushes for submission to a single culture, language and economic system.
Our Provincial governments also enrich our country by providing the link between our various provinces and the Central Government. The provinces and Honiara City Council are therefore the pillars that hold up the banner that frames our unity in diversity. We can be united in our diversities without necessarily being culturally and ethno-linguistically homogenous. We do not have to give up our diversities to be united.


But in order for this to happen, there has to be ethical and assertive leadership at all levels and sectors of our societies: at the national level, provincial level, churches, villages, schools, etc. Such leadership must be characterized by a service to our communities and recognition that we have a greater goal: the welfare of our people, our country and the environments which we belong to. The theme for this occasion, "Unity under one Banner", gives us the opportunity to reflect on our role as leaders with the vision to serve and build unity.
The second point I want to raise is the importance of symbolism in building and strengthening national consciousness and unity. This event involves two symbols of nationhood. The first is the idea and hence the construction of this Unity Square. I am sure that those who envisioned a Unity Square saw it, not only as a monument that marks our shared national identity, but also as a space where our people from diverse cultures, languages, and ethnic groups can gather to showcase the richness of our diversities while at the same time express and celebrate our unity as a country.
The second symbol is our national flag. As we all know, flags have become the emblem of nation-states. It is fascinating how a colored piece of cloth assumes so much symbolism and power. But it is important to note that the piece of cloth alone does not have power. It is we the people who breathe soul, life and power into the flag. So the unity that we seek is not embodied in the flag itself. Rather, it is embodied in us, the people. That flag is a representation of our unity. So, as we celebrate the construction of this Unity Square and the large flag that it carries, and as we see the flag when we leave or come into Honiara, let us always remember that it merely represents our unity.
In talking about flags, it is worth noting that they have also become symbols of resistance and disunity. So if we as Solomon Islanders become disunited, this flag will become nothing more than a piece of cloth. It is up to us to breathe mana, soul, life and power into the flag.
Our Provinces, which are the homes of a majority of our people, are the lungs that help breathe unity under this one banner. It is therefore important that we acknowledge the important roles that provinces and provincial governments play and accord them with the necessary resources that will enable them to continue to perform these roles.
With those few words, I would like to congratulate the Solomon Islands Ports Authority and Central Government and for building and gifting our country with this Unity Square. I am sure it will become a symbol of national unity for our people, both present and in the future. This is an invaluable service to our country.
Hon. Prime Minister, Hon. Ministers, Hon. Members of Parliament, Hon. Premiers, members of the Diplomatic Corp, church leaders, dignitaries and ladies and gentlemen, dou loki vanighamu, tagio tumas and God bless Solomon Islands from shoe to shore.
End/-
What you think?