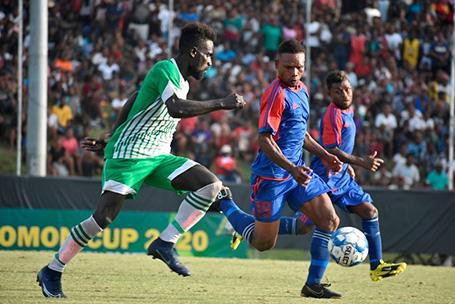 Western Tomoko has patched the leak in their defensive line that has let in 8 goals in their two opening fixtures while Malaita Eagles maintains their lead on top of group A as the two provincial sides battle out a nil all draw in the 2020 Solomon Cup at a fully packed Lawson Tama stadium yesterday.
Tomoko coach Seri Hite admitted they have been working on strengthening their defense after conceding 8 goals against the Hornets and the Arrows and it paid off against an onslaught of Malaita Eagles raid.
The centre-back pair of Martin Rence and Steve Riqeo were solid at the back while their goalkeeper put in a man of the match performance.
"We knew Malaita is a strong team and the defending champions, and so we wanted to give them a good game and they also gave us a good game," the Tomoko coach said.
"I think both teams were good tactically. This match was worthy of this kind of national tournament and I'm happy for players from both sides," he added.
Safe to say, Tomoko will be happier with the draw of the two sides seeing that they struggled to create clear scoring opportunities with limited support provided for their dangerman, Jay Grey Sipakana upfront.
"The players know their roles on the pitch. The flankers know their role in supporting the strikers but they were a bit slow otherwise we could have scored one or two goals," Hite said.
Malaita Eagles coach Terry Oiaka was satisfied with the draw.
"To earn a draw is good because we know this is a tough pool. I'm satisfied with the boys' performance, even though we had good chances to finish the game off."
Oiaka, who led the Eagles to lift the title in 2017, said they now have to recover for their all-important final group match against Temotu Arrows on Friday.
"My boys will play 4 games in 7 days; recovery is the most important thing. Against Arrows will be another final for us, such an important game for us.
"Discipline is important. I want the players to show the right attitude to the game and play as a team, that is the most important thing," he said.
Eagles are currently leading with 7 points. A win against Arrows on Friday will send them through to the semis.
While Tomoko, now second with 5 points, will also need a win against Lauru Kuvojos on Sunday to keep alive their hopes of qualification.
But remember, both the Hornets and Arrows, who still have two matches each remaining also can progress and they can ruin the party for one of the two front runners.
BY PHILIP LILOMO
ENDS///
What you think?