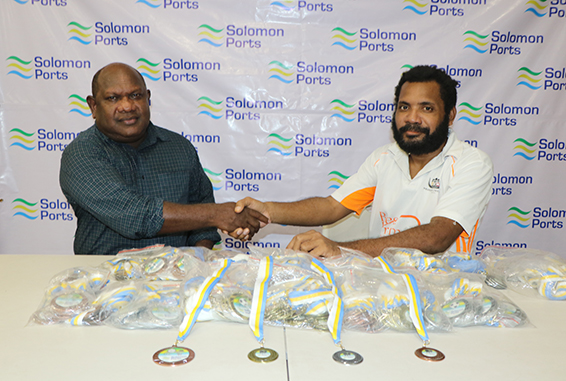 Solomon Ports today handed over a total of 222 Gold , Silver , and Bronze medals to Central Provincial Government sports representatives in support of the upcoming GERUSA Games scheduled to take place in Tulagi next month.
Solomon Ports has sponsored all the medals for the seven (7) sports that will be featured in the games, which are Indoor Volleyball, Beach Volleyball, Taekwondo, Table Tennis, Athletics, Basketball and Traditional Canoe Race.
The Games will feature and will see the participation from athletes in the three regions of Central Province, which are Ngella, Savo and Russel Islands.
Competitions will kick o after the new year, from the 4th to the 9th of January in the provincial capital, Tulaghi.
The games were supposed to be held last year in 2021 but was forced to be moved to next year due to the impacts of the Covid-19 Pandemic.
Speaking during the brief handover ceremony today, Central Provincial Government Sports Coordinator, Danny Fa'alimae, thanked the port on behalf of the provincial government for supporting the games.
"This support means a lot to us, especially to the young athletes of central province who will be taking part in the games, as some of them will be their rst time participating in such competitions."
Meanwhile, Solomon Port's Chief Financial O cer, and acting CEO , George Rausi said the port was happy in assisting the games.
He said the games will be a good opportunity for Central Province to identify athletes for the 2023 Paci c Games.
"I think it is also tting because not only do they take part in the sport competition, but we believe the games will help them focus on sports rather than taking part in other unnecessary activities."
What you think?